Lindsay Lohan Ruins Dress With Impromptu Tailoring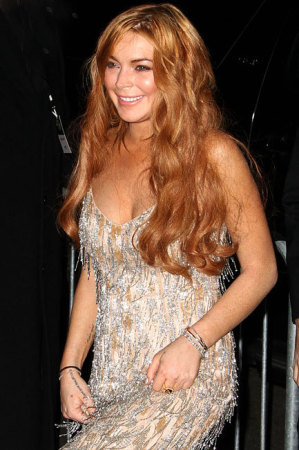 In news that is shocking to no one, Lindsay Lohan has made another costly blunder (related: It's a day of the week ending in "y"). But at least this time it's a little funny. The actress is in hot water with some fashion folks after she returned a borrowed designer gown in less-than-optimal condition.
Here's what happened: According to Us Weekly, Lohan wore a floor-length beaded Theia gown to a Feb. 6 Fashion Week event in New York City. While partying at a club after the gala, the gown ripped. Like any enterprising young woman, Lohan decided to take matters into her own hands. The problem: Her way of fixing the problem involved chopping off the bottom of the dress off so it would look like a fabulous, shorter version of the original. Oh girl, that only works in the movies!
RELATED: Lindsay Lohan Back in Court
"She said that the dress had ripped [at a club after the fundraiser] — she couldn't possibly wear it like that — so her stylist friend went to the club bouncer and requested some scissors to repair the torn part of the dress," a source told Us Weekly. "But what bouncer has scissors?"
Sure, being photographed in a torn dress is not ideal. But who hasn't had their own wardrobe malfunction at one time or another? Really, what in the world would possess someone to snip the skirt off a multi-thousand dollar gown like it ain't no thang?
Maybe Lohan has seen one too many rom-coms, because only in a fantasy world can someone spontaneously tear fabric into a perfectly even hem. (In those same movies people can turn tablecloths and curtains into actual, cute outfits. In real life, it would look like you were wearing a tablecloth or a curtain.)
As far as Lohan's mistakes go, this one is relatively minor. At least she's not in trouble with the law! What do you think: Where would it fall on Hollywood.com's Lindsay Lohan Trainwreck Spedometer?

Follow Jean on Twitter @hijean
[PHOTO CREDIT: ‪Zelig Shaul/ACE/INFphoto‬; Art by Hollywood.com]
---
From Our Partners:


Bradley Cooper Dancing Is Surprisingly Awkward, Sweaty (Vh1)


Kate Upton Bares All in Nothing But Body Paint: Video (Celebuzz)