Lindsay Lohan to Appear on Barbara Walters' '20/20′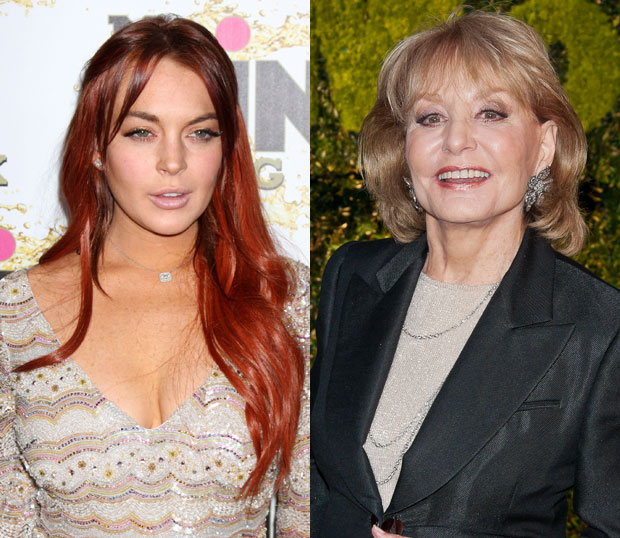 Now that Barbara's on the case, hopefully we'll get some answers in the Curious Case of Lindsay Lohan. Barbara Walters announced on The View this morning (and ABC confirmed the news in a statement) that she will be sitting down with Lohan for a one-on-one interview that will air on 20/20 on Friday, Nov. 16 — just in time to whet our appetites for Lohan's Lifetime movie, Liz & Dick (which airs Nov. 25). Lohan's rep also confirmed the news for Hollywood.com
It's no news that Lohan's personal and legal issues have eclipsed her professional achievements in the headlines these past few years, so we are itching to see what form Walters' line of questioning will take. According to E! News, Lohan agreed to the interview because she knows Walters will be sensitive with her questions. According to TMZ, Walters is interested in discussing the parallels between Lohan's life and Elizabeth Taylor's — including child stardom, living under the paparazzi's microscope, and coping with addiction. Hearing how these issues have helped shape 26-year-old Lohan into the woman she has become would certainly provide more fodder for lively (and emotional) conversation than the Lifetime movie alone. But, at the same time, I can't help but wonder — is there more to Lohan now than her headline-grabbing woes? 
Lohan's recent interviews, including her Today appearance with Matt Lauer in March, have focused on her still-unfinished journey to recovery. And, because of this, Lohan is often left apologizing for her actions and grasping for ways to explain her past. But for someone who has kept up with Lohan's odyssey in and out of court, these topics are old news. Wouldn't it be more interesting to focus on how Lohan plans to rebuild her career, rather than rehash her tabloid-worthy endeavors? Or, is that kind of interview simply no longer possible? Has Lohan crossed into the land of celebrity lost causes? 
While Drew Barrymore and Robert Downey, Jr. have been able to successful rehabilitate their careers as well as their lives, the jury is still out on whether Lohan will be capable of such a feat. Currently, it seems that as long as her personal antics keep her in the news, she will keep them up — and will keep talking about them. Lohan even went as far as to call TMZ directly with news relating to a recent blow-out fight with her parents. With Liz & Dick premiering soon and The Canyons and Scary Movie 5 on the horizon, however, Lohan may be poised for a return to Hollywood's good graces. Maybe interview queen Walters will be the one to turn the conversation from shoplifting and parental arguments back to Lohan's work.
Maybe…
Follow Abbey Stone on Twitter @abbeystone
[Photo Credit: WENN (2)]
More:
Lindsay Lohan Declares Herself a Romney Supporter
Police Called in Altercation Between Lindsay Lohan and Her Mom, Dina
Lindsay Lohan Treated for Lung Issue — REPORT
From Our Partners:

Miranda Kerr, Alessandra Ambrosio, and Erin Heatherton Talk Seduction, What Makes the Victoria's Secret Angels Swoon — VIDEO
(Celebuzz)

David Beckham Spends $700 on Clothes for Baby Daughter, Harper — EXCLUSIVE
(Celebuzz)