London 2012: How to Create an Olympic Superstar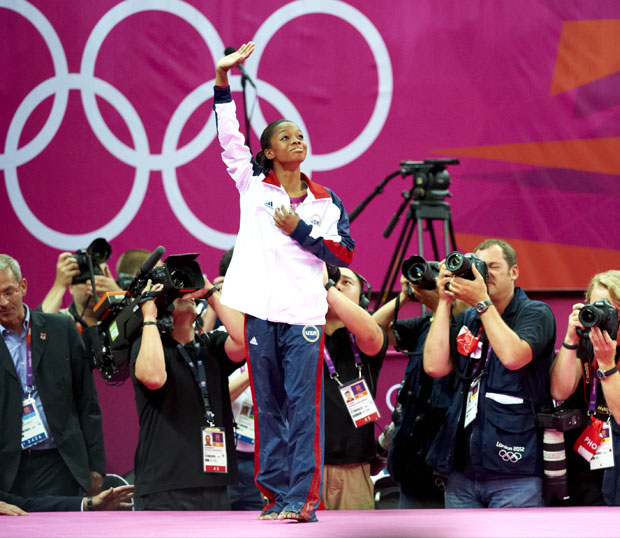 Are Olympic stars born or made? It's a bit of a chicken and egg situation, with Olympic tales supporting both sides of the argument.
Every two years, we're treated to the excitement of either a Winter or Summer Olympics. And every two years, we go into the games with a few stars already hand-picked for our immediate, fervent attention. The big events always present a few sure-fire stars, and even if they don't, audiences will still flock to them for the love of the sport. But something happens as soon as the games get underway: Suddenly, we find ourselves clamoring for any tidbit of information we can find about the winners we didn't see coming and the games we didn't know we loved. The Gabby Douglases and the Ryan Lochtes, if you will.
It happened with Michael Phelps in 2008. Though he'd been winning gold medals in World Championships and at the Athens Olympics in 2004, it wasn't until 2008 in Beijing that the swimmer went from small symbol of American pride to an all out American hero in a sport that up until that point wasn't exactly a consistent star-maker the way events like gymnastics and figure staking had been.
Similarly, Apolo Ohno's rise to stardom in a formerly unnoticed sport is credited with popularizing speed skating. But for Ohno, it isn't all about Gold. Even after he faltered a few times in the 2006 Winter Olympics and in light of the fact that he never managed to dominate the sport the way Phelps controls the pool, Ohno still managed to maintain his spotlight long enough to win 2007's season of Dancing With The Stars, and he continually nabs endorsement deals to this day.
Add to that stars like Track and Field darling Lolo Jones, who holds the 60m hurdles Indoor World Title, but in other competitions, including the 2012 London Olympics, Jones failed to wow when she placed fourth in the finals. Her star remained high, but her accomplishments are far more quieted than her personal history.
Already, it's apparent that not all Olympic stars are created equally. and if Ohno and Phelps prove anything, it's that a star can come out of any sport. Phelps is clearly beloved because of his ability to absolutely destroy the competition. Ohno is a great speed skater, but without his charisma and charming smile, it's doubtful he could have captured the audience like he did. And Jones, who's come under fire for her sudden fame, bears the figure and face of a Hollywood starlet and her 30-year-old virgin status is a wildly compelling backstory. Stardom comes in many forms for Olympians, but the question remains: How do these folks come into our scopes?
With hours and hours (and hours and hours) of events, winners, and competitors in every round of the Olympics, it comes down to the people who are covered by the Olympic broadcast itself and by the media covering the events in print and online. With such varying examples of how fame is attained by U.S. athletes, it begs a question: Does coverage follow medals or personality?
"It's a balance," says Ben Eagle, an Olympic Producer for SI.com. "Ultimately though, winning is what dictates the coverage." Clearly, that's why stars like Phelps even exist. "You have someone like Michael Phelps, who is not the most enigmatic of athletes, but his accomplishments speak for themselves," he says.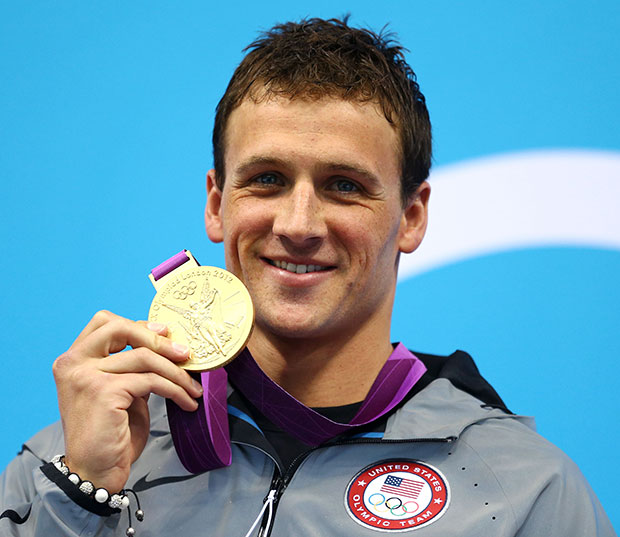 But the outliers are obvious, especially coming out of the London games. Aside from Jones, who sustained some pretty harsh criticism from the New York Times regarding her (arguably) non-merit-based Olympic fame, swimming star Ryan Lochte could also sustain similar criticism. Lochte came out of the gate on July 28 with nothing but fire, taking the gold in the Men's 400m Individual Medley, while Phelps puttered along in fourth place. It appeared that Lochte was the swimmer to beat, but as the games wore on, his front-runner status tarnished and Phelps swam back into first. "It looked like this was [Lochte's] time, he was going to seize the games and he just never followed through on that," says Eagle.
Still, Lochte is arguably one of the most famous (if not the most famous) athlete to come out of these London games thanks in great part to his penchant for patriotic clip-on grills, peeing in pools, word fumbles, one-night-stands, and of course, his Adonis-like appearance. The famed pool-tainter clearly fits outside of the winners-equal-stars mold.
Similarly, Jordyn Wieber continues to be an Olympic celebrity, practically because she suffered a public fall from grace and lost her All-Around spot to teammates Aly Raisman and Douglas (who took the first place title). And a great deal of the expectation which she was supposed to have met with a gold medal for the Women's gymnastics All-Around competition comes from the overwhelming amount of press on her leading up to 2012 Olympics. From all the coverage surrounding Wieber, you'd have thought she was a shoe-in.
"It's really helpful for us to see who sets themselves apart in the trials and other competitions. And just from that, we pull a list of stars to watch, people who could potentially make noise in London," says Eagle. That's likely why Weiber was pegged, almost across the board, as the gymnast to beat heading into the games. The problem is that, just like every other sporting event, the Olympics are completely unpredictable, and surprises are just a part of the game.
So when someone like Douglas spearheads an upset, it's perfectly understandable that NBC and other news publications aren't always at the ready with pre-fab feature stories about these surprise stars. When the surprise happens, it's the journalists' burden to gather the newly necessary information as quickly as possible. "You just move fast and follow the next story," says Eagle.
And the answer to this great question of ours is in that phrase. "Follow the next story." Many factors determine what makes someone a story: incredible beauty, oodles of charm, gold medals, world records, a penchant for teeth jewelry. It all counts. It all helps to make a star out of an athlete. And if you need proof, it's running wild, all over that London Olympic village.
Follow Kelsea on Twitter @KelseaStahler.
[Photo Credits: WENN (2); Getty Images; AP Photo; Lochte: Getty Images]
More:
Michael Phelps and Megan Rossee Aren't The Only Olympics Lovebirds
Win a Gold Meme Medal With the LOLympics