The Gay Jokes in Lonely Island's New Spring Break Video with James Franco Don't Make Any Sense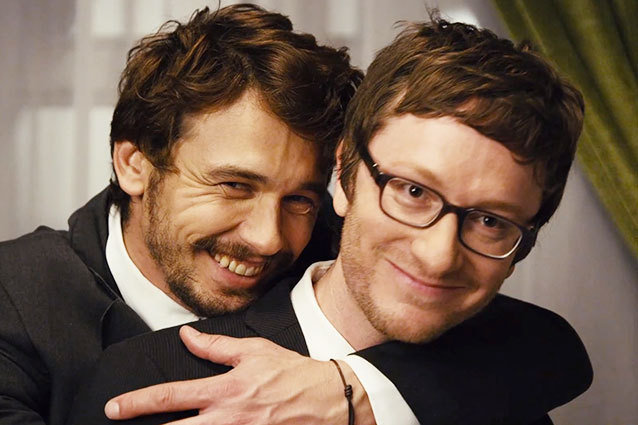 If it wasn't clear from his real gay sex masterpiece, Interior: Leather Bar, James Franco is incapable of making anything without reference to gay people and/or penis jokes. His new video for the band Lonely Island has both, of course. The video starts off as one of Zach Galifianakis' "Between Two Ferns" interviews where he asks James Franco wonderfully embarrassing questions about himself but then it turns to musical guest Lonely Island – Andy Samberg, Akiva Schaffer, and Jorma Taccone's factory of novelty jams.
Yes, this is actually a video for their song "Spring Break" where guys are pounding brews, chasing p***y, and then "marrying a man." Yes, each member gets wed to either Galifinakis, Franco, and Ed Norton in a queer cameo. But what does it mean? How do these things go together? Is it just the juvenile male sense of humor saying "ha ha, dudes doing it is funny?" Is it trying to show us that guys who are aggressively into chasing tail in Cabo are doing it to mask latent homosexual desires? Is it because Zach in a tux is a really funny thing to behold? Is it because they all smoked too much pot and thought this was really funny and it's not supposed to make sense and the joke is on me for trying to make sense of it? What is going on? Will someone please tell me because I have to decided if I should be offended or not. 
Follow Brian Moylan on Facebook and Twitter @BrianJMoylan
More:
Will Ferrell Makes Out with Zach Galifianakis
'Between Two Ferns' Gets Comedy Central Special
New Lonely Island Album from Andy Samberg and Gang!
---
From Our Partners:


What Happened to 33 Child Stars (Celebuzz)


40 Most Revealing See-Through Red Carpet Looks (Vh1)