Home
Celebrities
Louis C.K. and Amy Poehler are in Love: A Conspiracy Theory
Louis C.K. and Amy Poehler are in Love: A Conspiracy Theory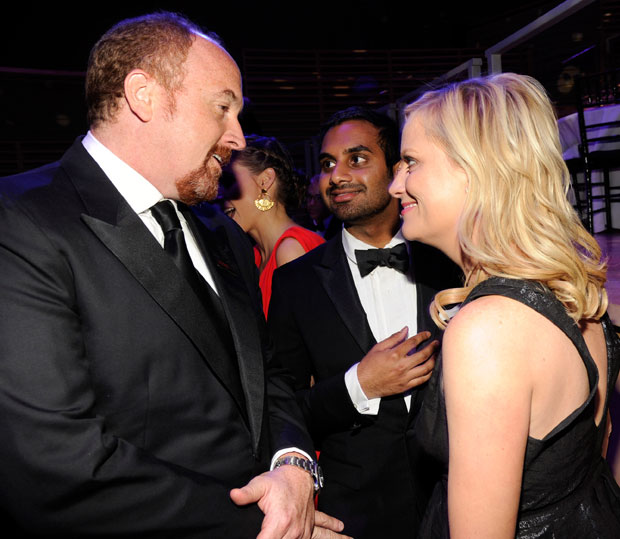 The news of Amy Poehler and Will Arnett's impending divorce still stings like the fresh wound it is, but during Sunday night's Emmys telecast, I experienced something beautiful — a glimmer of hope that one day my favorite funny people will find love again. Even if it's not with one another. Maybe I was dazed by the Emmys' glitz and glamour, but from my seat at home I thought I could glimpse a spark between Poehler and another one of television's most talented comedians, Louis C.K. As much as I love Arnett, I see now that his time has passed. From this moment forward, I do hereby proudly pronounce myself a Lamy shipper.
Before you cry sacrilege, let's examine the evidence. Exhibit A: During Louis C.K.'s stint as the adorably bumbling Sergeant Dave Sanderson, Leslie Knope's boyfriend on Parks and Recreation, the two had heartwarmingly believable chemistry. Even though Poehler's marriage prevented their mutual admiration (which was and still is obvious) from blossoming into something more, that respect and friendship provides a great foundation for any fledgling romance.
Fast-forward two years, and C.K. and Poehler are reunited once again on the set of Parks and Rec (Exhibit B). Poehler and Arnett were still firmly together at this time, but per chance seeing one another again fueled something within Poehler and C.K. Something I like to call the flames of passion. But, as with Pyramus and Thisbe, Romeo and Juliet, and Brad Pitt and Angelina Jolie, their desire had to be contained. Theirs was a forbidden love, one that must be quelled until the time was right.
After watching Poehler and C.K. present together at the Emmys, and then Poehler ask, "Did Louis answer this?" during the comedy writers' clip package, I'm convinced that that time is now. Oh the sparkle in their eyes — as they took the stage together, as they told their jokes together, as C.K. tried not to be distracted by Poehler's cleavage — can only mean one thing. True love. I'm rooting for you, you crazy kids. (Sorry I'm not sorry, Will).
Follow Abbey Stone on Twitter @abbeystone
[Photo Credit: Kevin Mazur/WireImage]
More:
Emmys 2012: 10 Burning Questions!
Emmys 2012: Best and Worst Moments