Lourdes Sings on Madonna's New Track: Listen!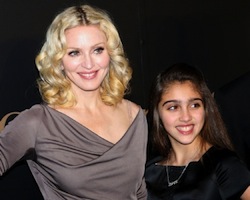 The leaks from Madonna's new album MDNA are coming in hot and heavy, and the latest features an interesting collaboration:  Madonna's 15-year-old daughter Lourdes provided background vocals for the new track! A preview of "Superstar" surfaced online today, and while it's a bit hard to single out Lola's voice from the crowd, that just means she's doing her job as a background singer.
Lourdes' vocal cameo is fitting, since the song is a follow up to the 1998 song "Little Star," which Madonna wrote shortly after her becoming a mother. This actually isn't the first time Lourdes has worked on one of her mother's songs. She also provided background vocals for the song "It's So Cool," which was released with some editions of her mom's greatest hits album Celebrations. It's unclear if Lourdes is hoping to follow in her mother's footsteps, but if she is, singing on two tracks by an iconic artist before she turns 16 will look pretty good on her resume.
Source: E!