Love By Numbers: The Big 'Bachelor' Breakup Barometer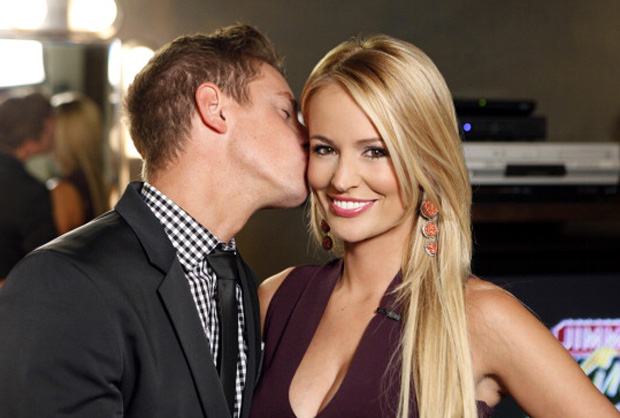 True love: something that for a long time seemed only reserved for fairytales — until ABC's The Bachelor and The Bachelorette series came around. Finally! Regular people (who are very attractive and vetted through a long and involved casting process) could find fairytale love! Love that was real and true, just like in the movies! 
…at least, that's what we all hoped. But, it turns out, televised matchmaking doesn't work out so well. The Bachelor/Bachelorette couples who remain happy in love are in the minority (to say the least), and the recent breakups of Jef Holm and Emily Maynard as well as Ben Flainjk and Courtney Robertson are just icing on the cake. Who would've thought, right? How is it possible that hand-picked attractive people from around the country going on extravagant dates can't find true love over the course of six weeks? It's shocking, really.
Don't believe us? Check out the numbers and über-fancy statistics, below.
The Bachelor Relationship Rundown
Bachelor Season 1:
Alex Michel and Amanda Marsh — Broke up after 10 months. The beginning of the reinvention of love.
Bachelor Season 2:
Aaron Buerge and Helene Eksterowicz -— Broke up 5 weeks after the finale. Woops.
Bachelor Season 3:
Andrew Firestone and Jen Schefft — Broke up 7 months after the finale. No spare tires for this relationship!
Bachelor Season 4:
Bob Guiney and Estella Gardinier — Broke up 1 month after the finale. What about Bob, indeed!
Bachelor Season 5:
Jesse Palmer and Jessica Bowlin — Broke up 1 month after the finale. It's hard to make a relationship work when your names are THAT similar.
Bachelor Season 6:
Byron Velvick and Mary Delgado — Broke up after 5 years. They became engaged in November 2004 and, while they did endure some domestic squabbles, they didn't officially end their relationship until December 2009.
Bachelor Season 7:
Charlie O'Connell and Sarah Brice — Broke up after two attempts at making it work: May 2005 – September 2007 (28 months), then again November 2008 – April 2010 (19 months). Total: 47 months together; certainly nothing to balk at!
Bachelor Season 8:
Travis Stork and Sarah Stone — Broke up after 1 month, probably because of all the stork jokes.
Bachelor Season 9:
Lorenzo Borghese and Jennifer Wilson — Broke up after 2 months, which makes zero sense because this guy was A REAL-LIFE PRINCE so, like, Happily Ever After was guaranteed, I thought! Isn't that in the Ye Olde Royal Contract?
Bachelor Season 10:
Andy Baldwin and Tessa Horst — Broke up after 4 months. Guess he wasn't a total Baldwin.
Bachelor Season 11:
Brad Womack chose NO ONE because he hates everyone.
Bachelor Season 12:
Matt Grant and Shayne Lamas — Broke up after 2 months. Lorenzo Lamas reportedly weeped for years.
Bachelor Season 13:
Jason Mesnick and Melissa Rycroft — Broke up at the reunion.
Jason Mesnick and Molly Malaney — Got together at the reunion (yikes!) and married in February 2010. They're still together and expecting a baby! Mazel!
Bachelor Season 14:
Jake Pavelka and Vienna Girardi — Broke up after 3 months, and were totally casual and not-at-all mean about it (haha just kidding it was the ugliest break-up on TV maybe ever)!
Bachelor Season 15:
Brad Womack and Emily Maynard — Released an official "we broke up" statement after 3 months (though reports say it ended much earlier).
Bachelor Season 16:
Ben Flajnik and Courtney Robertson — Broke up after 7 months, when Ben realized that the entire planet really didn't like his decision-making skills..
And the Bachelorettes — How Did the Ladies Fare?
Bachelorette Season 1:
Trista Rehn and Ryan Sutter — Married for 8 years and counting! With kids! What a bunch of weirdos.
Bachelorette Season 2:
Meredith Phillips and Ian McKee — Broke up after 1 year. Does anyone remember this season?
Bachelorette Season 3:
Jen Schefft and Jerry Ferris — Broke up 3 weeks after he proposed. Woops!
Bachelorette Season 4:
DeAnna Pappas and Jesse Csincsak — Broke up after 4 months, probably because Jesse's last name was really hard to spell.
Bachelorette Season 5:
Jillian Harris and Ed Swiderski — Broke up after 1 year, probably because she was Canadian.
Bachelorette Season 6:
Ali Fedotowsky and Roberto Martinez — Broke up after 15 months. And, somehow, Roberto did not become the next Bachelor (sorry, Sean Lowe, sure you'll be great).
Bachelorette Season 7:
Ashley Hebert and JP Rosenbaum — Engaged with plans to marry (on live TV! The way it was meant to be done, obviously) in December of this year after 14 months. Hooray for them!
Bachelorette Season 8:
Emily Maynard and Jef Holm — Broke up after 5 months and lots of marionette fights.
Failed relationships: not just for the normals anymore! So what have we learned from all of this? Well, namely it seems like Brad Womack has a terrible track record but loves television. And so does his second-go-around winner/ex-fiancée, Emily Maynard. (Maybe those two crazy kids were meant for each other after all!)
After compiling the numbers and doing a little bit of
Bill Clinton
's favorite thing (no, not ladies — dirty minds, all of you!), arithmetic, we have put together this handy guide for understanding love,
Bachelor
style. 
Here Are Some Fancy Math Facts:
Mean Length of Relationships:13.6 months
Median Length of Relationships:4 months
Mode Length of Relationships:1 month
Analysis:So while the marriages and successes may have thrown us off a bit (13.6 months: what are these people, monogamists?), it generally seems to be that 4 is every bachelor and bachelorette's lucky number. Unless they're one of the five couples who only like quickie, one-month-long relationships.
It seems that the one thing we cantake away from this is that we, as a nation, need to completely rethink our definition of "true love." Obviously, these very attractive and well-groomed pseudo-celebrities know what true love is: they were on a TV show and are good-looking! Duh! So, maybe we should reevaluate what true love really means. If all of these love experts have relationships with an average shelf-life of 1 – 4 months, maybe that's how long true love really lasts! Maybe we've been fooled all of this time by the movies, the Disney princesses, the happily ever afters. Maybe true love can only last a brief period of time (I mean, forever is like, so many years).
[Photo Credit: ABC]
More:
'Bachelor' Ben Flajnik and Courtney Robertson Split: What Happens to the Engagement Ring?
'Bachelor' Star Jason Mesnick and Molly Malaney Are Expecting a Baby
Another 'Bachelorette' Couple Bites the Dust: Emily Maynard and Jef Holm Are Done
---
From Our Partners:


Kim Kardashian's Maternity Style: So Wrong? (Vh1)


60 Celebrity Bikini Bodies: Guess Who! (Celebuzz)