Lucille Bliss, Voice of Smurfette, Dies at Age 96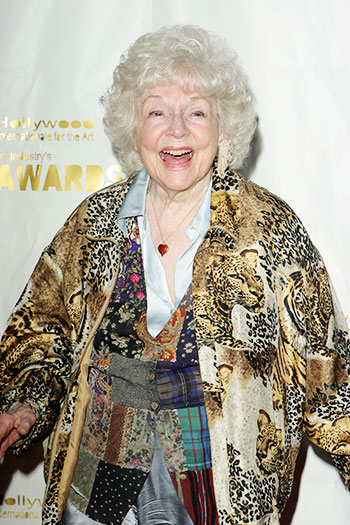 Voice actress Lucille Bliss, best known for providing voices for such classic cartoons as The Smurfs, Crusader Rabbit, and The Jetsons, died of natural causes on November 8 at an assisted living center in Costa Mesa, the Los Angeles Times. She was 96 years old.
Bliss' career in Hollywood spanned 60 years and, according to the L.A. Times, she was last working as recently at last month. Bliss got her start in the business in 1950 by providing the voice for Cinderella's stepsister Anastasia in Disney's animated film. Later that same year she was cast as the voice as the title character in NBC's Crusader Rabbit, the first first animated series to ever be produced specifically for television.
Owner of TDA Animation David Scheve recently spoke of Bliss' talents to the L.A. Times. "Actors from her generation who came up in live radio, you'd do one or two takes with Lucille and she'd just nail it," he praises. "She could do three or four characters in one [scene] and you'd never know they were all her. She was terrific."
In the 1960s, Bliss provided the original voice of Elroy Jetson on The Jetsons. She lost her job, she told interviewers at the time, because she refused to work under a stage name that would hide the fact that a grown woman was providing the voice for a little boy. She said, "Life as a voice actress is tough. It's not an easy career."
Children of the '80s best know Bliss for her work as Smurfette on Smurfs. She voiced the bubbly blonde for the show's entire run, from 1981 to 1990. When the show went off the air, Bliss continued to find work, providing voices for video games (you can hear her on Star Wars: Bounty Hunter and Battlestar Galactica) as well as feature films such as 2005's Robots and television shows including Avatar: The Last Airbender.
Bliss took her job as a voice artist incredibly seriously and was a lifelong student of her craft. According to the L.A. Times, Bliss continued to take acting classes with aspiring artists late into her life and once told a writer, "I'm an actress specializing in voices. don't like the term 'voice-over.' … You have to be an actor first, and then the voice…. You have to take acting lessons to learn how to act before you can speak."
Follow Abbey Stone on Twitter @abbeystone
[Photo Credit: Rebecca Sapp/WireImage]
More:
JoAnna Garcia Swisher, 'Animal Practice' Star, Is Going to Be a Mom
Kristen Bell and Dax Shepard Expecting Their First Child
Evan Rachel Wood and Jamie Bell: Hitched!

'Breaking Dawn — Part 2' Star Peter Facinelli Moves On In New York; 'Twilight' Actor Grabs a Bite With Actress Jaimie Alexander (EXCLUSIVE PHOTOS & DETAILS)
(Celebuzz)