M.I.A.'s Album Delayed for Being 'Too Positive': Do We Want a Sunny M.I.A.?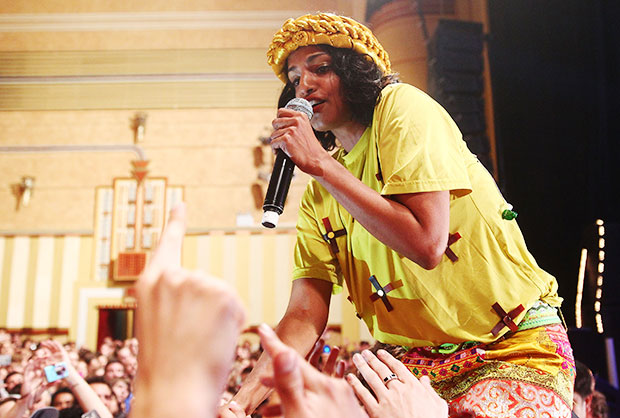 M.I.A thought she was finished with her next album, but, alas, she was wrong — at least according to her label. In an interview with the Australian website Gold Coast, M.I.A. reveals that when she submitted her completed album to her label, Interscope, they sent it right back.
"[My album's] due in April, which is the Tamil new year — April 15th — and I'm still working on it," she says. "I thought I'd finished it. I finished it and then I handed the record in, like a couple of months ago."
But when Interscope heard the singer's new tunes they were all like, "Nope, too smiley. Where all the guns at?" (Or something like that.) M.I.A. says, "At the moment, I've been told it's too positive. So we're having a bit of an issue at the label. They're like 'You need to like darken it up a bit'. I don't know what it is but as soon as I work that out…"
Does it seem odd to anyone else that M.I.A., an artist who is generally known as a badass who does whatever the f**k she wants, would consider altering her artistic vision for the sake of her label? Well, M.I.A. thought the request was strange, too. "No, I'm taking my time to decide what they mean. It's an interesting one for me," she says. "It's like, 'We just built you up as the public enemy No. 1 and now you're coming out with all this positive stuff.'"
Because musicians are never allowed to change, or grow, or develop. "Don't mature! Don't take chances! Make every song sound the same!" says music fans… nowhere. Bad idea, music execs, let the lady do what the lady wants! We're sure it'll be sick.
Follow Abbey Stone on Twitter @abbeystone
[Photo Credit: Don Arnold/WireImage]
More:
Azealia Banks Ignites Controversy With Perez Hilton, Uses Gay Slur On Twitter
Frank Ocean Cited for Marijuana Possession on New Year's Eve — Report
Taylor Swift and Harry Styles' NYE Kiss: Is He Just Not That Into Her?

30 Hottest Lingerie Scenes from the Past 30 Years (Celebuzz)