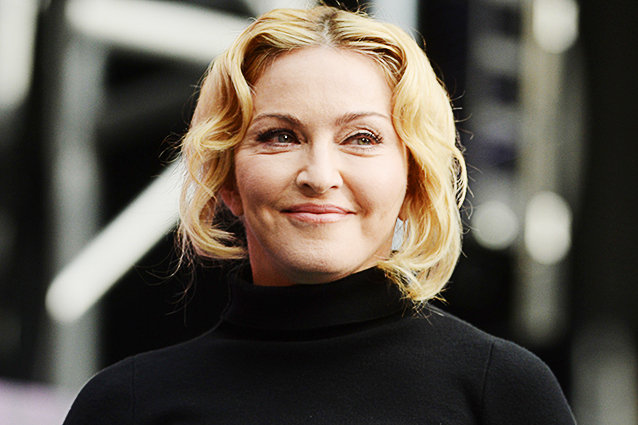 WENN
Monday night, Madonna proved herself to be a hip and incredibly funny Reddit guest. Though she told Reddit that they could ask her almost anything (AMAA), she proved to be fairly honest and forthcoming, though she noticeably did not answer a popular question about her opinions on Lady Gaga. When an eager Redditor asked her for a date, she replied "send photo," and when another told her that his beauty was on the inside, she replied "i still need to see it…show me your internal beauty then." Here are a few other illuminating moments from her AMA.
On her best birthday present ever: 
"i got a bong in the shape of a penis"
Her dream travel destinations: 
"Egypt and an island off the coast of east Africa called Lamu"
Her last dream: 
"Brad Pitt and I were living together and there was a small blonde child in the bed. Sorry Angelina, it was only a dream."
The last thing she's laughed about: 
"the fact that i had a dream about brad pitt"
On why her 2003 album American Life wasn't well received: 
"because i dealt with alot of controversial issues in it. i criticized american politics, the entertainment business in hollywood..i was in an angry mood when i was making it. maybe that came across. but i was in an angry mood when i made my last album too"
On which music video was the most fun to make: 
"justify my love in paris"
On current causes she's invested in: 
"Censoring of artists, around the world. Censorship – for instance Pussy Riot."
On future collaborations: 
"I would love to work with Daft Punk…just waiting for them to return my call"
On how big of a Reddit fan she is: 
"HUGE"
On her favorite method of procrastination: 
"plucking my eyebrows"
On her relationship with her fans: 
"we exist because of one another so its circuitry its totally reciprocated."
Her favorite desserts: 
"A lemon tart or the rose lycee macaroon cake from La Duree"
On what she would say to her 20-year-old self: 
"don't take any of this personally"
The gay guy she'd like to turn straight: 
"frank ocean"

On Freud: 
"actually im not a big fan of Sigmund Freud…i dont think everything can be analyzed i think he was too celebral and a misogynist. im a fan of carl jung."
On making out with her new grills:
"yup it works" 
Read the rest of her AMA here.
More: 
The People Lady Gaga Imitated In Her 'Applause' Video
The 10 Most Controversial Video Music Awards Moments Ever
Ricky Gervais On His Favorite Comedians, Atheism, And 'Derek'
---
From Our Partners:


40 Most Revealing See-Through Red Carpet Looks (Vh1)


15 Stars Share Secrets of their Sex Lives (Celebuzz)