Madonna's Flash Fest Continues: Now She Moons Rome — VIDEO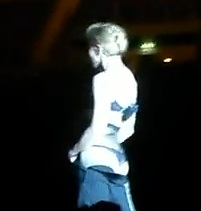 Madonna is running out of body parts to bare and foreign countries to expose them to. The latest locale to set a stage for the iconic singer/songwriter's strip show: Rome, Italy. And the anatomical feature in question: her butt.
During a performance of her 1995 hit "Human Nature" at the Stadio Olimpico on Tuesday (part of her MDNA Tour), Madonna, 53, mooned her audience — a similar stunt to the one she pulled on Thursday, June 7, during a rendition of the same number at an Istanbul venue, when she flashed her bare breast. This time, Madonna just turned her back to the crowd and removed her black pants to reveal a lace G-string.
Madonna originally wrote "Human Nature" as a response to the outcries against her divisive album Erotica and coffee table book titled Sex.
Madonna's next stop on the tour is Milan, where she will take the stage again on Thursday. The tour will continue throughout Europe, North America, and South America, concluding in Córdoba, Argentina in December. What will be Madonna's next shocking move?
Watch Madonna's strip show below.
[Photo Credit: Roger Eldemire/WENN]
More:
10 Most Embarrassing Celebrity Wardrobe Malfunctions
Madonna vs. Marine Le Pen: A Swastika-Doomed Concert
Madonna Takes a Swing at Lady Gaga (Again) in a Song Mash-Up — VIDEO