Madonna's New Album Has Largest Second Week Drop in History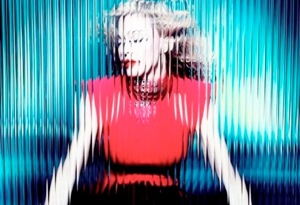 Last week Madonna's latest album MDNA, which is definitely not named after drugs, debuted at the top of the Billboard charts, selling 359,000 copies. Given her track record and huge fan base, that's not a surprise. What's shocking is that her second-week sales fell 88% to only 46,000 copies sold. That's the largest drop in sales history. Sheesh, lady. That's even scarier than the gristle in her arms.
The reason the tumble is so huge is because Madonna resorted to an increasingly common tactic to goose her record sales. The Material Girl was sweet enough to offer everyone buying a $300-$7,506,729 ticket to her upcoming tour the option to download a free copy of the album. Those giveaways accounted for 185,000 of the copies sold. That's more than half! As it has been and as it always shall be, people would rather see Madge put on a huge show than listen to one of her increasingly mediocre albums.
Madonna, usually a trend setter, is jumping on the free-album-with-a-ticket bandwagon that was started by Prince and was perfected by Lady Gaga, who offered everyone 99-cent copies of her last album so that the first week sales would ensure chart dominance. The funny thing about all this is that, just like Madonna covering up her pterodactyl claws with a rotating collection of gloves, it's all vanity. These artists aren't making any more or less money (most singers make their cash from touring these days, not album sales) but they feel the need to be top of the heap to show their dominance. Don't they know that no one really cares about the charts other than the floundering music industry and a handful of bloggers who just use the stats to make fun of them? Well, it looks like this time the plan backfired and Madonna has a sad record to add to her collection of happy ones.
This week number one on the album chart will the Lionel Richie for the second week of his newest album Tuskegee. Madonna and Lionel Richie battling it out for Billboard's top slot — what year is it anyway? Is it the '80s? You know, back when these charts mattered.
More:
Madonna Reaches Number One on Charts Again… With 'MDNA'