Manti Te'o and the 'American Idol' Effect: Our Addiction to the Culture of Tragedy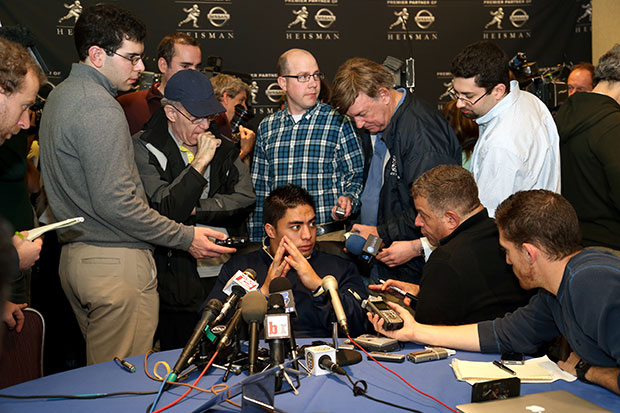 The Manti Te'o story has many sports journalists feeling the irrevocable sting of not double-checking the details. How could so many professionals, whose jobs are to dig up the dirt and check the facts, miss the detail that Te'o's inspiration for his Heisman Trophy-eligible 2012 season was a woman who didn't exist? In hindsight, it seems inconceivable. But the answer is simple. The story in which Te'o lost his girlfriend right after losing his grandmother and right before playing the best football of his Notre Dame career is prime for a movie a la Rudy or Miracle, or, perhaps, a Manti Te'o reality TV show.
Even before the Te'o story began to mimic MTV's reality hit Catfish: The TV Show, it already seemed prime to spark reality fame for the Notre Dame linebacker. How could anyone resist such an inspirational story? We couldn't. We're not wired that way. Throughout the sports and entertainment worlds, it's evident that we've been trained to crave triumph over trouble in every celeb, hero, and role model. Many of our most beloved sports stars are beloved because they succeed after navigating dire straits. Even our favorite celebrities have to have some back story to get us on board. And of course there's one pop culture behemoth that practically subsists on exploiting stories of adversity: American Idol. The problem is, the more success-after-tragedy tales we witness, the more outrageous these success tales need to be. It's no wonder we accepted a tragedy like Te'o's reported double loss; we could practically see the reality TV sob story background reel playing in our heads and it had us salivating.
It's a factor that explains why Idol made headlines following the Season 12 premiere, when New York contestant Evan Ruggiero told his tale of surviving cancer and having his leg amputated only to be sent home by the judges because he wasn't ready to compete on the singing series. This wasn't what we signed up for. We were duped. Where was that gratification of the good feeling after the sad story? Idol always delivers an overdose of that saccharine-soaked hope, giving us multiple contestants a year who defy the odds and restore the American dream; and in some cases these stories produce winners, like Season 11's Phillip Phillips, who overcame his severe health problems despite wanting to quit multiple times during the show. In past years, contestants with great stories didn't even need to be all that good, like Season 10's Chris Medina, who sneaked by without vocal chops thanks to being selfless enough to play nurse to his brain-damaged fiancée. It's hard to accept now that only some people get a ticket to Hollywood after facing periods of great sadness. We cling to the notion that there is always a way to surpass even the greatest roadblock, and it appears we need it now more than ever.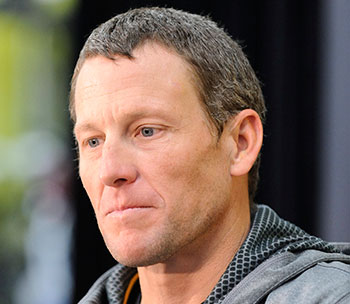 Our favorite stars are greatly comprised of sobs-to-smiles stories. It's nothing new in the sports world, where Te'o is just the cherry on top of a mountain of trying tales: Jackie Robinson defeating the race barrier to join the Brooklyn Dodgers in 1947, Magic Johnson returning to the Lakers after being diagnosed as HIV positive, Ted Williams being a WWII vet and a 19-time MLB All-star, Josh Hamilton besting his years-long drug addiction to become the American League MVP in 2010, to name a few. Heck, the reason we're so obsessed with Lance Armstrong and his doping scandal is because we heralded him as a miracle athlete after her survived cancer and won multiple Tour de France titles. And it's why we're watching Te'o like a hawk.
These triumphant stories have also become integral to the celeb realm, where putting a 17-year-old from Kentwood, La. in a sports bra in the music video for "(Hit Me) Baby One More Time" was once enough to make a girl a superstar, without digging into her past life. Now, we want it up front. Just look at Justin Bieber, who just surpassed Lady Gaga as the most-followed celebrity on Twitter and who's managed to make headlines every day this week simply for having the ability to use a cell phone camera and post images to Instagram. He comes from humble beginnings' he's the child 17-year-old Patti Mallette refused to abort despite being pressured to do so. Years of living in low-income housing later, the Biebs was discovered via Youtube, saving himself and his young mother from further struggle. Then there's the beloved author J.K. Rowling, who added a famous face to her famous name when we learned she overcame crippling poverty with her Harry Potter series and became a celebrity in her own right (you may know Suzanne Collins' name, but few would see her face and know she wrote The Hunger Games). Demi Lovato went from Disney Channel kid to a household name when her she emerged like a healthy new butterfly on the other side of a stint in rehab for drugs and alcohol abuse, self-mutilation, and a subsequent diagnosis of bipolar disorder.
Even Jennifer Lawrence, who's award worthy on her own, has gained momentum in the Best Actress race heading into the Oscar season at least partially due to her "inability" (or refusal, depending on how you look at it) to fit into Hollywood culture as-is. In consistently shirking the prescribed Hollywood ways, like accepting her body even if she's considered "fat" in Tinseltown and refusing to elevate the acting profession above less glamorous ones, she's actually given herself the highest form of Hollywood currency: a little bit of adversity. If she's atypical, she's fighting the odds. And if you've been paying attention, we've learned to love that.
But do we really need these stories right now? Why are they so prevalent? The aforementioned celebs certainly aren't the first ones to overcome something and thus earn a place in our hearts (just ask Oprah Winfrey, who came into our lives in the late '80s after conquering a horrible childhood that included allegations of rape and, later, a miscarriage in her early teens).
Still, it's impossible to deny the relevance of the underdog story right now, especially in the face of the Te'o story. We want it so bad, we were willing to believe it blindly. We shouldn't beat ourselves up too greatly: it makes sense in America right now. The economic climate has been bleak since the housing crisis, unemployment rates have steadily risen for the past 10 years, and the future is more precarious than ever. It's in times like these that entertainment begins to reflect our fears. Looking back at the 1930s, during and after the Great Depression, we saw the emergence of superheroes like Captain America, who overcame his cripplingly tiny stature to become a freedom fighter with a dose of Super Serum, and Batman, an orphan who grew up to own a multi-national corporation and a secret cave of tools for fighting crime. When times are tough, we seek triumph over hardship in entertainment, and that pattern is clearly in effect today. Add to that pattern a hopeless addiction to reality TV and celebs like Kim Kardashian (who lacks any discernible talent, but packs a tawdry back story), and it's not hard to see how we've landed here with a pile of overcomers on a pedestal. 
The question that remains is, what will happen next? Now that stories like Te'o's and Armstrong's have shattered the shiny surface of the classic underdog tale, are we growing weary of it? Is that why watching American Idol judges crush a cancer survivor's dreams is a possibility now? Now that the underdog is everywhere, are we moments away from being bored with him?
Follow Kelsea on Twitter @KelseaStahler
[Photo Credit: Getty; WENN]
More:
Why Catfish is the New Jersey Shore (Thanks to Manti Te'o)
'American Idol' Recap: What Made Nicki Minaj Walk Out in Charlotte?
'Argo' Nabs Best Picture Globe, Could Oscar Be Next?

Celebs as Kids: Guess Who? (Celebuzz)