Margaret Thatcher and Pop Culture: It's Complicated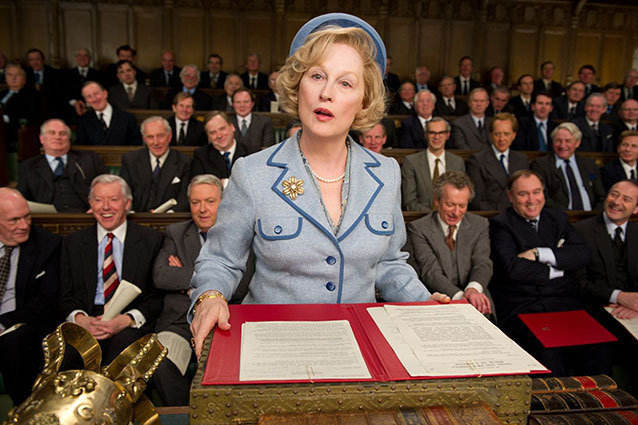 Margaret Thatcher wasn't just the former Prime Minister of the United Kingdom and the country's Iron Lady, she was also an inspiration for every nook and cranny of pop culture. From music to movies, to TV and even fashion, Thatcher's policies and beliefs were fruit for the artistic mind, especially during the late '80s and the years leading up to her resignation in 1990. Unfortunately for the former prime minister, those voices tended to skew liberal, and thus pop culture's relationship with the British politician was a rather testy one. 
Despite her positive effects on history, including the promotion of feminism and women in power (and even the invention of soft serve ice cream, apparently), Thatcher took a beating from the music world. From Elvis Costello to Paul McCartney to Morissey, musicians took up lyrical arms against the leader. Even Billy Elliot includes some harsh words set to music by Elton John: "Merry Christmas, Maggie Thatcher/ We'll all celebrate today/ 'Cause it's one day closer to your death." But none spewed quite as much obvious hate as Pete Wylie's "The Day That Margaret Thatcher Dies" which boasts, "When Margaret Thatcher dies/ There will be no tears/ Save it for the people/ That she stomped for years." 
In 2008, one theater company took the sentiments of Wylie's song to a new extreme. The Death of Margaret Thatcher depicted a series of characters reacting to the fictional death of the politician, including one man who is driven to tears at the news, but can't fathom why since his beliefs were against everything she stood for. Thatcher was very ill when the play ran in London and it stirred some controversy about where art ends and disrespect begins. Ultimately, the play continued and even won a nomination for the King's Cross Award for New Writing. 
For those of us who were mere children when Thatcher ran England, experiencing the weight of protest music and the emotion behind plays like The Death of Margaret Thatcher takes a little more effort. Instead, we're left with what might be Austin Powers: International Man of Mystery's most memorable line — outside of "Yeah, baby!" and "I lost my Mojo." Surrounded by fembots hellbent on seducing him into submission, Powers uses Thatcher for anti-inspiration. And thus "Margaret Thatcher naked on a cold day!" was born. 
Thatcher received a rather complete depiction of her life from the time of her youth to her old age and the development of Alzheimer's Disease when Meryl Streep delivered an Oscar-winning performance in The Iron Lady. But despite the film's decided turn away from pop culture's rampant negativity about the former British leader, many critics were disappointed that the film failed to take a stance at all on Thatcher's reign. Still, being played by the great Meryl Streep has to count for something, doesn't it?
Television has had a generally less favorable relationship with the Iron Lady. She's been portrayed numerous times on Saturday Night Live, often played by men including Monty Python legend Michael Palin and John Lithgow. Johnny Carson used her famously sober demeanor to prank Joan Rivers into thinking she was being insulted by the leader (it turns out it was a Thatcher impersonator after all). But no one was more critical than the British comedian community, including the 1980s puppet sketch show Spitting Image, which hit her rather hard with a Mad Magazine-esque puppet singing "My Way" while the streets of London are beseiged by riots.  
Of course, Thatcher famously got her own revenge when she used a famous Monty Python sketch to make her own point against the Liberal party during a 1990 speech to the Conservative party. She not only cleverly trotted out the famous "This is an ex-parrot" line from the beloved "Dead Parrot Sketch," but she playfully ended her speech with John Cleese's well-worn Python transition: "And now, for something completely different." Point, Thatcher. 
If we take a closer look at Netflix's most recent gift to fans of great television, House of Cards, we can see that we have Thatcher to thank for its existence. Her resignation in 1990 inspired the British version of House of Cards about one man's ruthless scheming to replace the Iron Lady as prime minister. And, as we now know, that character inspired Kevin Spacey's Frank Underwood on Netflix's American adaptation of the series, which is revolutionizing the way we watch television by presenting all its episodes at once. So, if you think about it, Thatcher (in an admittedly very small and completely indirect way) influenced the evolution of the television medium. 
Not too shabby for a woman whose relationship with the performing arts has been, well, complicated. 
Follow Kelsea on Twitter @KelseaStahler
[Photo Credit: Wenn]
More:
Margaret Thatcher Dies at 87 
Meryl Streep Pays Tribute to Margaret Thatcher 
---
From Our Partners:


40 Most Revealing See-Through Red Carpet Looks (Vh1)


33 Child Stars: Where Are They Now? (Celebuzz)