Mariah Carey Sings Obama's Praises, Literally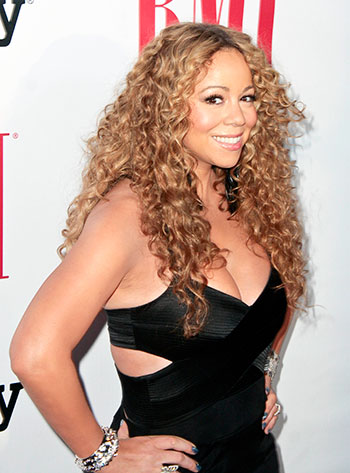 Mariah Carey is raising her voice in joyful jubilation to celebrate President Barack Obama's big win. Just hours after president re-elect Barack Obama gave his rousing victory speech, Carey released a song she penned in honor of Obama on music producer Jermaine Dupri's website, Global14.com. In "Bring It On Home," Carey expresses sentiments of hope and perseverance in the face of adversity that fall right in line with Obama's message. Only, her worlds are buoyed up by a jazzy piano and Gospel choir. I dare you to listen to this song without clapping your hands and nodding your head.
Carey first performed "Bring It On Home" at an Obama campaign event in June, when Obama's future was still in question. ""We just everyday people trying to make it through the pain. Yet we intentionally hurt each other playing silly games," she sings. "But when it comes down to win or lose, don't give up the fight. Strength is what we need, and love can save our lives. So when you're down and frustrated let 'em all keep debating because we gonna win." Can I get an "Amen!"
On Tuesday night and into the wee hours of Wednesday morning, Carey watched with millions of Americans as Obama addressed his electorate. "INCREDIBLE SPEECH!!!!!! Watching in a room full of diverse people-all truly moved. Thank you America for President Obama-4more yrs," she tweeted.
I can just picture her sitting beside a roaring fire — a Moroccan under one arm and a Monroe under the other, Nick Cannon looking befuddled somewhere nearby — rapt with attention while Obama proclaimed the virtues of our nation. "Bring It On Home" plays quietly in the background, adding to the moment's magic, and the whole Carey/Cannon brood gently sways from side to side.
Follow Abbey Stone on Twitter @abbeystone
[Photo Credit: Curtis Sabir/WENN]
More:
President Obama Wins Election: What Are the Stars Saying About Four More Years?
American Idol Promo Chooses Inspiration Over Nicki-Mariah In-Fighting
Mariah Carey is a Golden Girl in Her 'Triumphant' Video — VIDEO

Kim Kardashian: 'I've Lost 10 lbs'
(Celebuzz)