Matthew McConaughey Has Become an Old Man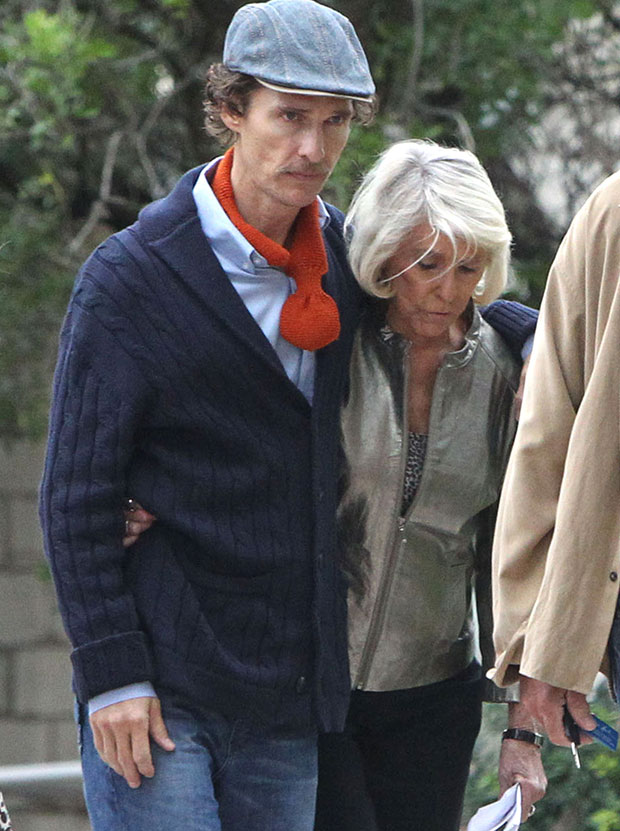 It's laudable to go all-in for a role, and it often seems like dramatic physical transformations are directly linked to Oscar wins (just ask Natalie Portman, Charlize Theron, or Tom Hanks), but has Matthew McConaughey taken things too far? McConaughey has lost a reported 30 pounds to play electrician Ron Woodruff, a man who contracts HIV, in the upcoming The Dallas Buyer's Club. When the actor was spotted leaving church with his family on Sunday (above), McConaughey looked not only skinny, but also old and frail.
In July, McConaughey was down 15 pounds, and discussed his weight loss on Larry King's web series Larry King Now. McConaughey described the weight loss process as "a bit of a spiritual cleanse, mental cleanse." He said, "It takes a while for your body to understand that it has to feed off of itself and that you're not going to give it something else from the outside … I should not look healthy by the time I'm doing this." But, he promised, "I'm not sick."
Seeing McConaughey as he is now, however, it's hard to believe his words. Even before adding make-up or effects, McConaughey looks far older than his 42 years and, frankly, unwell. McConaughey certainly isn't the first actor to push his body to the extreme for the sake of a role, check out our gallery of other jaw-dropping actor transformations.
Follow Abbey Stone on Twitter @abbeystone
[Photo Credit: FameFlynet]
More:
Matthew McConaughey Continues Greatest Comeback Ever, Joins 'Wolf of Wall Street'
Matthew McConaughey Talks 'Killer Joe' First Impressions: "I Was Disgusted"
'Magic Mike"s Matthew McConaughey: I'd Never Danced
From Our Partners:

Mila Kunis Goes Topless for Esquire Cover, Crowned Sexiest Woman Alive — PHOTOS
(Celebuzz)