Matthew McConaughey Ties the Knot with Camila Alves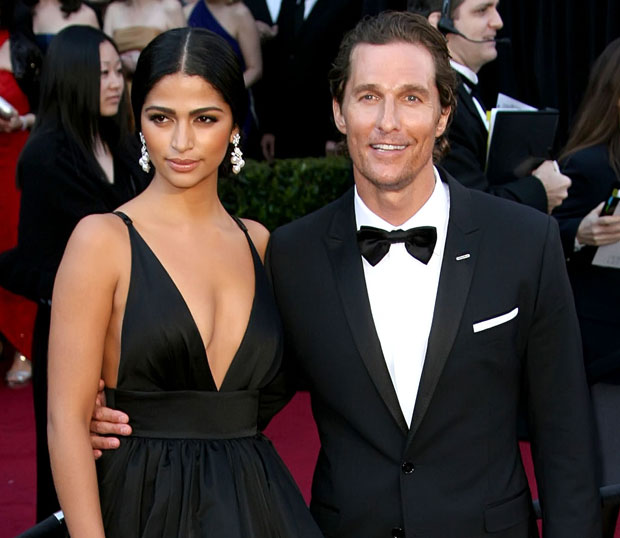 It's official: Matthew McConaughey is hitched. The 42-year-old actor tied the knot this weekend with long-time partner Camila Alves, 30. The Lincoln Lawyer actor proposed to Alves, a Brazilian model, on Christmas Day last year. Now, the couple have sealed the deal in a small wedding in McConaughey's home state of Texas.
EOnline reports that the nuptials were relatively low key, with only a handful of friends and family in attendance. This is the first marriage for both McConaughey and Alves, who have two children, Levi and Vida.
Word that the couple was set to wed this weekend leaked when party trucks made their way into the McConaughey compound early on Friday. Orchid delivery? Dead giveaway. The celebration kicked off with a pre-wedding camp out, with two-person luxury tents filling McConaughey's backyard. Details on the actual ceremony are scarce (workers who helped set up were asked to sign nondisclosure agreements), but one can only imagine the lengths of the production based on the accommodations made for the guests!
Early in his career, McConaughey earned a reputation for being a bad boy, keeping his celebrating his bachelorhood and occasionally running intro trouble with the law (in 1999, the actor was arrested for posession of cannabis). But settling down with Alves looks to be part of a new phase of life — McConaughey is also starring in two 2012 dramas that debuted to praise at the Cannes Film Festival: The Paperboy and Mud. With his career flourishing and his relationship stable, McConaughey is setting himself, his wife and his kids up as one of Hollywood's most darling families.
More:
20 'Magic Mike' Photos That Will Make You Drool
Matthew McConaughey Gets NC-17 for Twisted 'Killer Joe