Maurice Sendak's Legacy: Let The Wild Rumpus Continue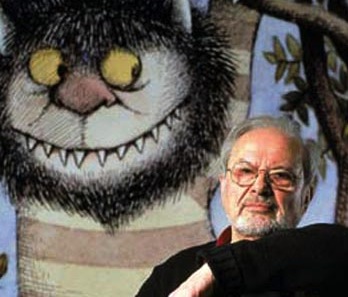 And he sailed off through the day and night/ and in and out of weeks/ and almost over a year/ to where the wild things are.
Truth be told, I was incredibly sad to hear about the passing of famed author and illustrator Maurice Sendak, who died at the age of 83 due to complications from a recent stroke. I know that I shouldn't be because he lived a long and outstanding life, bringing joy to generations upon generations of young readers, leaving behind a legacy that will never fade. But, truthfully, it's sad to imagine a world in which we won't get another one of his inspired, wonderful books, or enjoy one of his rare, frank and hilarious interviews. And if there was anything that Sendak shared with the world it was absolute, unflinching truth.
The truth that childhood can be a dark and scary and complicated and isolating place was what propelled arguably his best, most beloved work, Where The Wild Things Are, to becoming the classic that it is with young readers since 1963. The truth that, only in the depths of our childhood imagination could we ever really escape is the reason the book still resonates with adults who grew up with Where The Wild Things Are and have now passed it on to their children. A timeless classic if there ever was one, the cry of "Let the wild rumpus start!" feels just as exhilarating to read and shout at 40 as it did at 4.
Of course, it wasn't just Sendak's game-changing Where The Wild Things Are that found its way into the libraries, homes, and hearts of readers. In The Night Kitchen, Outside Over There, The Nutshell Library, and most recently, Bumble-Ardy all but solidified Sendak's place as one of the greatest artists of his genre. And hopefully, if you ever had the great privilege of meeting Mr. Sendak, hopefully you worded it a little bit more gracefully then that. As Sendak griped in a wonderful interview with Vanity Fair last year, "A woman came up to me the other day and said, 'You're the kiddie-book man!' I wanted to kill her."
Which brings me to, perhaps, my very favorite thing about Sendak. Even more than the brilliant words and pictures he created that shaped my childhood, was Sendak's attitude about his work ("My work is not great, but it's respectable. I have no false illusions," he humbly told VF) and the world around him. If Where The Wild Things Are brought me happiness as a child, then I can only describe his instantly classic visit to The Colbert Report as unparalleled joy.
When I took a break from laughing the hardest I ever have laughed from watching an interview on television as the whip-smart, delightfully cranky, refreshingly honest, and just damn hilarious Sendak went-toe to-toe with an amused Stephen Colbert, it was apparent that not only had he shaped our youths, but he gave us something to aspire to as adults, as well. In my wildest dreams, I can only hope I'm as funny and daring and as true to himself as Maurice Sendak was. Of course, even if I'm not, Maurice Sendak left us all with that gift: Always let your imagination run wild.
Watch Sendak's classic appearance Colbert appearance from January here: