Manti Te'o's Fake Internet Girlfriend is 'Thrilled' About Maxim Hot 100 Inclusion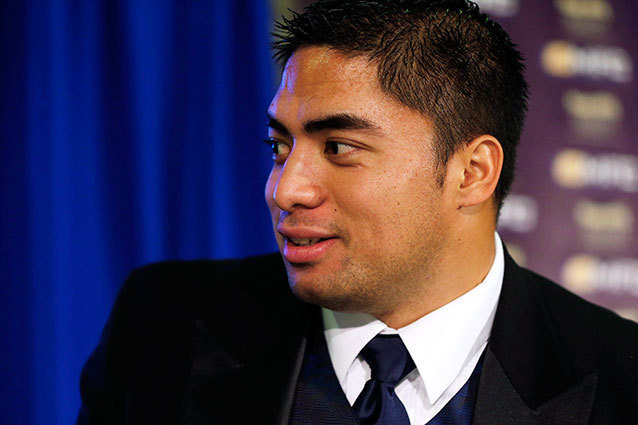 Manti Te'o can finally call Lennay Kekua his trophy — because as of today, Maxim has declared her totally hot. So much so that the not-at-all-real Internet girlfriend (a hoax played on him by Ronaiah Tuiasosopo) has landed herself at number 69 on their annual Hot 100 List. You go, girl!
It's an honor that comes after a hard-nosed year for a woman who achieved massive notoriety for her involvement in the scandal. Manti Te'o's fake girlfriend insists that she has nothing but love in her heart for hoaxer Tuiasosopo now. "It took a lot of soul-searching, but I forgive him. He was clearly a very lost, very confused boy," explained Manti Te'o's fake girlfriend to Hollywood.com in an exclusive sit-down interview*. Reflecting on the incident, Manti Te'o's fake girlfriend did not mince words, "It was like, so totally embarrassing. Can you imagine?! You think you know someone and fall in love with someone … find someone to spend your life with, only to find out it's all a lie? I was devastated." But even after being dragged through the proverbial mud in one of sport's biggest scandals, Manti Te'o's fake girlfriend acknowledges the limits of real people's understanding of fake people. "They forget that we have feelings! I want love just as much as the next person — fake or real!"
And she's right: it's really hard out there for fake girlfriends, especially following the aforementioned scandal. "After the news broke, I had so many people reaching out to me," she said. "Fake people really do have to be everybody to everyone while also maintaining picture-perfect good looks. You will never meet an ugly fake Internet person. Why, you ask? Because there isn't room for imperfection on the Internet! People can be really demanding of us: it's not easy being the best girlfriend ever!" Still, Manti Te'o's fake girlfriend knows that despite her inability to have an actual, phsyical connection with someone, that there is hope for fake internet paramours everywhere. "I just want someone to love me for me, and even if it is too much to ask doesn't mean I can't wish for it!" she chuckled while flipping her perfect hair and smiling with her perfect smile. "I know that the big man upstairs works in mysterious ways, and He will find me my one true love!"
Regardless of the trials and tribulations, Manti Te'o's fake Internet girlfriend is thrilled to be accepting this honor, especially following her tumultuous break-up. "It really hurt to find out I was just a pawn in someone else's scheme. Especially in such a public way! I felt really betrayed for awhile, especially after all I'd already endured." Manti Te'o's fake girlfriend is, of course, discussing her extended and tumultuous battle with leukemia following a horrific car accident.
"I was angry for a long time. But anger is like, totally toxic," she stated. After months of scrutiny, anger, betrayal, and confusion, is she's finally ready to let her hair down? "I just want to live my life — for me! Just really let it all hang out, you know?" Manti Te'o's fake girlfriend is looking forward to striking while the iron is hot.
"I'm not going to be perfect forever, so why not document what I've got while its still hot, right?" she explained. "I just want to live my life and really celebrate the body I have now before it's too late. I went to like, so many Soulcycle classes to prepare for this! I feel so alive — it's like c'mon everyone! Let's celebrate!"
And that celebration is certainly well-deserved in light of it all. "The whole cancer thing and nearly dying thing really put life into perspective to me, you know? Life is like this amazing thing. It's, I mean I guess I'd say it's almost like a gift."
And she wants to make sure all fake Internet people stand up and grab that gift. "Don't say no to something you want to do just because you're scared. Reach for the stars and even if you fall, you'll still land on the moon, and that's out of this world!" She pauses before considering what she just said. "Hmmm… I wonder if I should trademark that. That would look great on a t-shirt."
Still, even with all her ambitions and insight, Manti Te'o's fake girlfriend knows that she can't live in the now. "Being considered hot is so flattering, especially after the beatdown I got in the press this year," the fake Internet person quipped. "I really felt like I took a lot of hits that I didn't deserve. I felt like a scapegoat!"
But it's not all fun and games for Manti Te'o's fake Internet girlfriend. Now it's time for the real work: her future. Manti Te'o's fake Internet girlfriend has aspirations — big ones. "I want fake Internet girls and boys everywhere to know that they're not alone. There are literally hundreds of us, maybe even thousands, out there suffering in silence.  You're not alone. It gets better."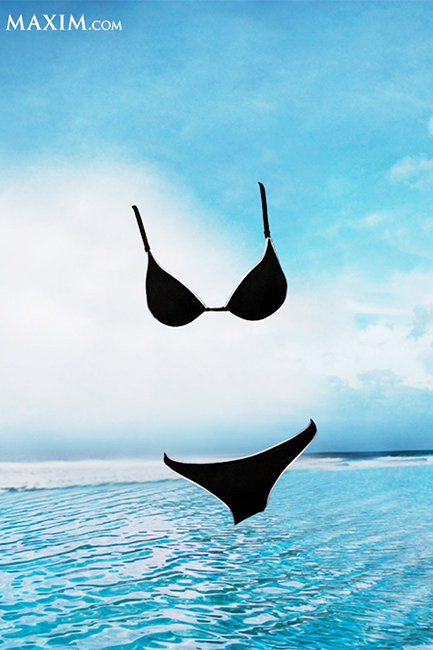 Manti Te'o's fake Internet girlfriend is a career woman at heart, though: and her ambitions are large. "I think my dream is to go into public speaking … I think my life is a cautionary tale that could really help fake Internet girls and boys everywhere. Love makes the world go 'round, you know? I'm just thrilled that Maxim has afforded me the opportunity to make lemonade out of these lemons."
And love is exactly what Manti Te'o's fake Internet girlfriend is searching for, in the end. "I love love; I'm a hopeless romantic! I think we all need love." So it's no surprise that Hollywood has already come calling. "I'm shopping a reality show … I think people want to see what sort of man really deserves my affections because I'm just like them in a lot of ways. I'm a strong, independent, brave, honest, and yes, hot fake woman! I receive from the universe what I put out there. I might even write a memoir. I've lived so many lives already and I'm not even old yet!"
Still, Manti Te'o's fake Interent girlfriend is family-oriented. "Family keeps you grounded, even in the midst of all this hullabaloo. It's like my mom-mom always said, 'the love you create is equal to the love you can pretend to make.'"
"Besides …I'm on Maxim's freaking Hot 100 List, baby! Who wouldn't want to date me?!" Where Manti Te'o's fake Internet girlfriend leads, no doubt love will follow.
* By "sat down with" we mean "completely made up this very obviously one-sided conversation because Manti Te'o's fake Internet girlfriend is actually, well, fake."
And in case you need a reminder (or proof, depending on how well you pay attention):
Follow Alicia on Twitter @alicialutes
More:
The Manti Te'o Catfishing Story is the Best, Most Bizarre Sports Story Ever
Manti Te'o on 'Katie' Raises Way More Questions Than it Answers
Manti Te'o Hoaxer Ronaiah Tuiasosopo Speaks Out on 'Dr. Phil'
---
From Our Partners:


What Happened to 33 Child Stars (Celebuzz)


40 Most Revealing See-Through Red Carpet Looks (Vh1)