McDonald's Reaches Out to Charles Ramsey, The Hero Who Saved Amanda Berry While Eating Their Food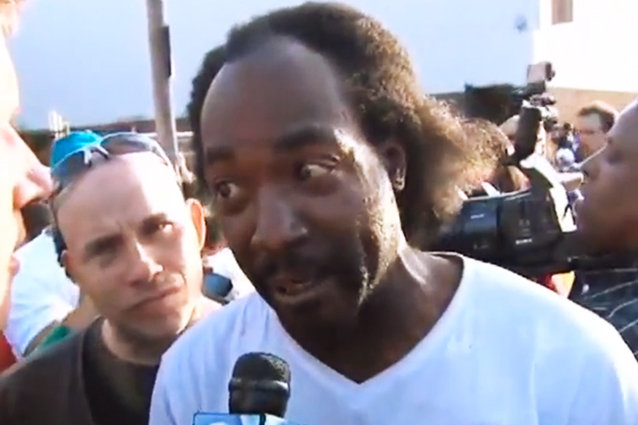 Everyone has been talking about Amanda Berry and the two women that were held captive for a decade in a Cleveland home, but more than the crime itself, people have been talking about Charles Ramsey, the colorful Samaritan who helped them to freedom. Ramsey gave a crazy interview about his actions to a local station and called 911. He mentions McDonald's in both viral clips because he was eating their food when he heard Berry scream for help. Now the restaurant chain is reaching out to Ramsey so they can discuss the matter with him.
What are they going to offer him? A reward? A commercial? They're staying mum and a rep for the brand told the AP that they want to talk to him privately due to the sensitive matter of the story. Yeah, using Ramsey to help sell McRibs because he said he used to eat ribs with the kidnappers seems as tasteless as a melted McFlurry. This is especially true considering cops caught the three brothers accussed of locking the women up in, you guessed it, a McDonald's. Looks like they're on both sides of this equation.  
But the strange reaction to this new folk hero continues to be odd at best. Like other YouTube stars, Ramsey's interview is aready over one million views and received the AutoTune treatement thanks to the Gregory Brothers (of Antoine Dodson fame). So, laugh away at a horrible atrocity with a pop diddy below. 
Follow Brian Moylan on Facebook and Twitter @BrianJMoylan
More:
Will Charles Ramsey Join the Ranks of Other YouTube Celebrities
Hollywood Stars Salute Kidnap Rescuer Charles Ramsey
Proof that Fame Will Shorten Your Life Span
---
From Our Partners:


What Happened to 33 Child Stars (Celebuzz)


40 Most Revealing See-Through Red Carpet Looks (Vh1)