Meet Rebel Wilson's Alter-Ego: Gangsta Rapper 'B***h' 'Rebelicious'  — VIDEO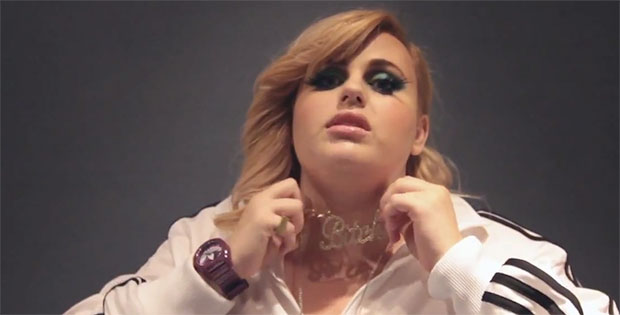 Funny girl Rebel Wilson doesn't just stop at stand-up gigs and comedic films — when it comes to making her fans laugh, it seems she will do anything in her power for a giggle or two. Even if it means putting on a white jumpsuit and impersonating Missy Elliott. In a new video from Bullett TV, the Bridesmaids star introduces us to rapper "b***h" Rebelicious, Wilson's hip-hop alter-ego.
So how did Rebelicious get her start in rap? "I was walking down the street and this guy come up to me and was like, 'Ay, you! You look like you could rap," she says in an Australian attempt at a gangster-like voice. "I'm like, 'I've never tried it before. I always thought maybe ballet or politics or something that would be my thing.' But he's like, 'No girl. You could rap.' I was three years of age, so you know, that guy just really knew how to pick talent." Cut to a shot of Rebelicious cupping her breasts as she leans against a fence. Hey, rappers should be equal opportunity self-gropers. 
Rebelicious even has her own gangsta accessories: "I got this from another skank after punching her in the face," she says as she shows off her bling necklace. "She wouldn't give it voluntarily, so I punched her and she gave it to me."
See below for your introduction to Rebelicious. "The life is good," isn't it?
Follow Lindsey on Twitter @LDiMat.
More:
Canadian Justin Bieber Surely Knows How to Play Hockey, Right?
Miley Cyrus Reported for Battery, Says LAPD
Amanda Bynes Pulled Over by LAPD — REPORT
From Our Partners:

Bill and Giuliana Rancic Share First Photo of Baby Edward Duke — PHOTO
(Celebuzz)

(Celebuzz)