Meet Twoey Deschanel: 'New Girl' Stunt Double and 10 Other Celeb Lookalikes — GALLERY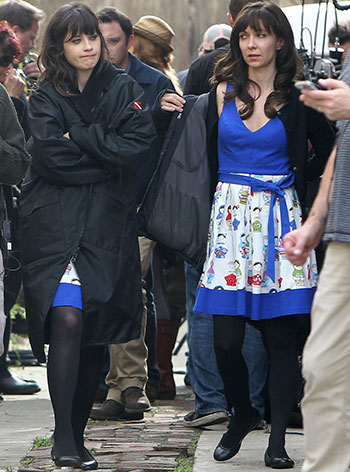 Zooey Deschanel has cemented her career on being different. A unique, free-thinking oddball who has channeled that reputation into her character on Fox's New Girl. Yes, she's one of a kind. And yet, there are two of her.
Here, we see Deschanel filming an upcoming episode of New Girl alongside an individual who looks strikingly like the series' star, straight down to the kitschy attire and whirlwind tresses. Since no ordinary human would dare attempt to replicate the spirit of Jessica Day on her own accord, we've got to assume: this is Deschanel's stunt double.
All right, so we know for a fact that it's her stunt double. Monica Braunger, who has worked with Deschanel since the 2008 comedy film Yes Man, during which she had a May-December romantic tryst with Tom McComas, stunt double for Jim Carrey… wait, was that plotline cut, or am I just fabricating memories I wish were true again?
Look to the picture and see if you can determine which is the real Deschanel (hint: it's the one who's singing about cupcakes). And check out our gallery of more impressive celebrity stunt doubles.
11 Celebrities and Their Stunt Doubles
More:
Jordan, Is that You? The Many Guises of Jared Leto
Taylor Swift Strolls With 'One Direction' Hunk Harry Styles… And a Baby?
Eddie Murphy Is Forbes' Most Overpaid Actor… AGAIN

Harry Styles Spotted Outside Taylor Swift's Hotel Room The Morning After Their Date Night (PHOTOS)

Fall Bikini Bodies: The Good, The Great, The OMG (GALLERY)