Home
Celebrities
Megan Fox Quits Twitter After 6 Days: Who Else Quit (and Who...
Megan Fox Quits Twitter After 6 Days: Who Else Quit (and Who Came Running Right Back)?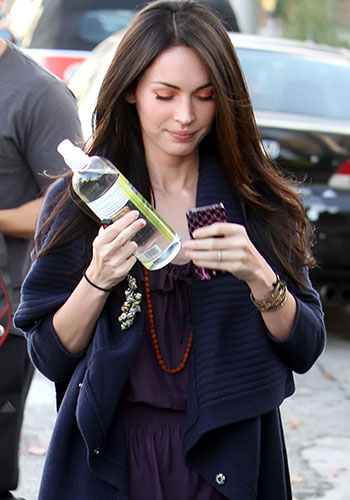 Does Megan Fox own the title for the shortest Twitter lifespan? She joined the social media site on Jan. 3, tweeting, "I'm incredibly late to the party but I'm here nonetheless, so what now?" Apparently she never got a suitable answer to her question, because after a mere 13 tweets, @MeganFox is closing up shop.
Fox posted on Facebook (because when quitting one social media site, you use another!), "Some of you may, or may not have noticed by now that my Twitter account has been shut down… I thought that 2013 might be the year that I finally blossomed into a social networking butterfly… but as it turns out I still hate it. Love you guys but I will just never be that girl. Facebook is as much as I can handle. #I'm Sorry." Guess she never quite understood how to hashtag correctly, either?
Fox's Twitter breakup isn't that surprising. It seems like she never quite got into a tweeting groove. Her last tweet on Jan. 9 foreshadowed her shutdown of her account. "5 days on Twitter and I have yet to discern it's purpose. #WhatIsThePoint ???" she wrote. Even with 260K followers, she couldn't make it work.
From her first tweet to her last tweet, Fox was only on Twitter for a mere six days. While she may hold the title for the shortest Twitter lifespan, she's not the only celebrity to shut down her account (but she might be the only one who stays off for good!).
– John Mayer famously shut down his Twitter after getting a lot of heat for speaking publicly about his exes, though he claimed his purpose was more of the professional variety, saying he shut it down to "return to the studio."
– Mulit-hyphenate Renaissance man James Franco spent a few weeks tweeting before hosting the Oscars, but a Twitter feud with Bruce Vilanch prompted him to quit.
– Miley Cyrus deleted her Twitter, offering up this video as an explanation to her fans. Because, you know, that's the same. 
– While Twitter mainstay Ashton Kutcher didn't exactly quit Twitter, it could be seen that way. He relinquished control of his account to his management team after a controversy involving an ill-timed tweet or two (first proclaiming the 10th anniversary of Sept. 11 to be "the greatest day of the year" because of the return of Sunday Night Football, and then condemning the firing of Joe Paterno before knowing the reasons behind it).
– Little Britain star Matt Lucas quit Twitter after a teenager tweeted a joke about the death of his former partner Kevin McGee, who hanged himself in 2009.
– Chris Brown, after getting into a Twitter feud with comedian Jenny Johnson, deleted his account, but couldn't stay away: he rejoined the next morning.
– But Amanda Bynes is perhaps the most fickle — and most random — tweeter ever. She has threatened to quit both Twitter and acting multiple times. Her Twitter breakup did not stick, but her return to acting still remains to be seen…
[Photo Credit: WENN]
Follow Sydney on Twitter @SydneyBucksbaum
More:
Taylor Swift Loves Antiquing More Than Sex?
Evan Rachel Wood Is Pregnant: 'I'm Gonna Be a Mama'
Al Roker's Sharting Confession Gets the Autotune Treatment Because This is The Internet

25 Risqué Miley Cyrus Stage Outfits (Celebuzz)