Megan Fox's Husband Is 'Fantastic' In Bed & More Co-Star Sex Secrets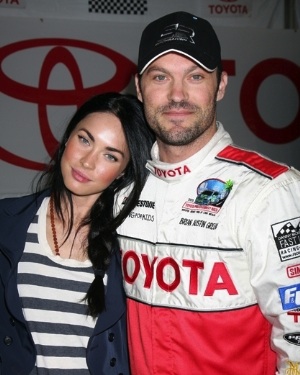 No 90210 fan wonders what Megan Fox sees in husband Brian Austin Green, and according to Ali Larter, your decade-long crush on David Silver was entirely justified.
Larter has a sex scene with Green in the pilot for the drama The Asset, and she reports, "It was fantastic." Larter, who plays a CIA agent who goes undercover as a photojournalist, adds, "There are lot of very sexy, dark, disturbing situations … It's very complicated. It's just very dark, so we'll see if it goes or not. Fox [the television network, not Megan] may be a little bit scared of it."
Larter's endorsement is even more impressive, considering that actors usually complain about how uncomfortable and unsexy it is to hit the sheets with their co-stars. Green definitely deserves a spot on our list of Hollywood's best on-screen lovers — alongside Shia LaBoeuf, who was called "the best kisser ever," by none other than Fox.
Twilight star Ashley Greene has had a chance to makeout with Kellan Lutz and Jackson Rathbone, but she says she had the most fun filming her love scenes with Olivia Wilde in their film Butter. When asked to name the best kisser in Hollywood, Green said, "I'm going to go with Olivia. Sorry guys. Ours was much more intense than either of the boys, so they need to step up their game." She added, "She is a good kisser. And I would know this because we had to do several takes."
Timberlake has received some mixed reviews. Though his Friends With Benefits co-star Mila Kunis said two weeks of filming sex scenes with JT was "uncomfortable" at first, Amanda Seyfried loved getting romantic with him on the set of In Time. "Sex scenes are great," she said. "A lot of my co-stars have been sexy guys my age, and so, why not? I'm not going to pretend it's not fun. Justin was great. He had come from doing Friends With Benefits, where he basically had sex every day at work so it was easy for both of us. We just kind of got it on, and then were like, 'That was good!'"
Real life couple Kristen Stewart and Robert Pattinson play it coy on what it was like to film their Twilight love scenes, but Reese Witherspoon wasn't shy with her praise for her Water for Elephants co-star. "He's super duper sexy," said Witherspoon, adding that she didn't even mind being cold during filming. "Let's just get something straight, it's still a sex scene with Rob Pattinson! I was having a very good time."
While pretty much every lady would jump at the chance to make out with Don Draper (though they probably shouldn't), Jon Hamm actually got more out of his ridiculous Bridesmaids sex scenes with Kristen Wiig than she did. While the SNL funny lady recalls, "We just kind of made up all these different horrible things that he could do to me and ways he could throw me around the room," Hamm says he tried to make the most of the scenes. "It's like running in the rain. There's a certain point where you go, 'F**k it, I'm already wet. I'm not going to get any less wet, so I might as well just enjoy how this feels.'" He reports that after the initial awkwardness faded, "You think, All right, we're doing this, so let's have fun with it … You're in that moment and it's happening and it's not going to get any better, so you might as well enjoy it."
Zac Efron may have throngs of tween admirers, but he's enamored with a (very married) woman 20 years his senior. He says of his sex scenes with Nicole Kidman in The Paperboy, "It was everything you dreamed of. She was such a lovely person. I pinched myself every day, especially after doing love scenes with Nicole Kidman. Nicole is so gorgeous!"
More:
]