Melissa Joan Hart Gives Birth to Third Son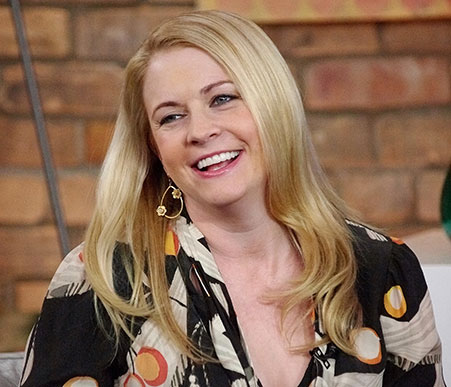 Want to feel old? Ultimate girl next door and Clarissa (you know, the one who Explains it All) now has three children. Three! What would Sam say? Melissa Joan Hart, 36, and her husband Mark Wilkerson, 35, welcomed their third son, Tucker, at 10 PM on Tuesday, People reports. Tucker is now at home with his mom, dad, and two older brothers, Braydon, 4, and Mason, 6.
According to People, Tucker is 8 lbs., 5 oz, and his parents have yet to decide on his middle name. Hart and Wilkerson's rep tells the magazine, "Mom and Dad are elated and can't wait to introduce him to his brothers."
When Hart announced her pregnancy in May, she told People that she wanted to be surprised by the sex of her baby. "We don't want to know. We found out both other times, but this one we want [it to be] a surprise," she said. Now that they have welcomed their baby boy, Hart and Wilkerson can start painting the nursery blue. (Or, on second thought, they can pick something gender-neutral and let the boy decide his favorite color for himself).
Congrats Melissa and Mark!
Follow Abbey Stone on Twitter @abbeystone
[Photo Credit: WENN]
More:
Kelly and Dylan Back Together on TV: Five Other '90s Pairings That Need to Follow
Melissa Joan Hart Expecting Her Third Child — PIC
ABC Family Ups Original Series Cred: Keeps 'Bunheads' & More, Cancels 'Jane by Design'
From Our Partners:

Blake Lively Debuts Wedding Ring, Kisses Husband Ryan Reynolds — PHOTO
(Celebuzz)

(Celebuzz)