Michael Buble Announces New Baby with So-Cute-I-Could-Puke Video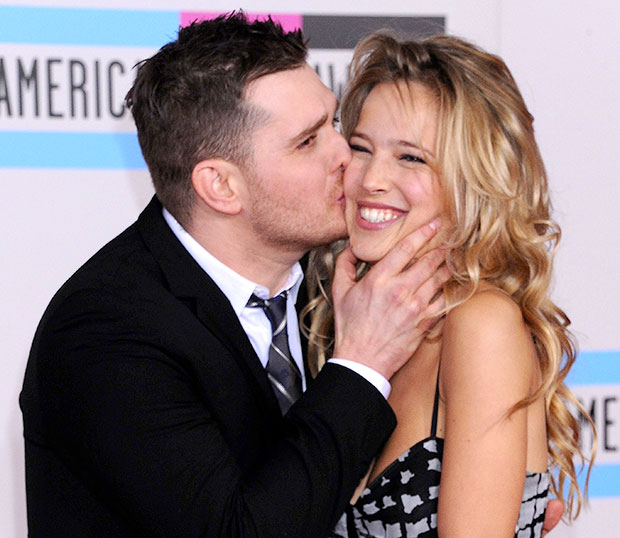 Finally, someone has topped Jessica Simpson in the category of cheesy baby announcements. If you thought Simpson's "Yes, I'm going to be a mummy" tweet on Halloween of 2011 – accompanied, of course, by Simpson in a mummy costume — was the apex of so-adorable-you-could-puke pregnancy revelations, you thought wrong. Leave it to Frank Sinatra wannabe Michael Buble, 37, to topple Simpson's reign as the Queen of Cheese. On Thursday, Bublé and his wife, Luisana Lopilato, 25, announced that they are expecting their first child, and they did so by creating a corny mini-music video.
The video begins with the text, "Mike, LU and… Mini Buble!!!" and then cuts to video of an ultrasound. Then, a sound graph of little kids cheering is layered on top. In case you didn't quite get it, the couple writes, "We're having a baby Buble!!!" in both English and Spanish (Lopilato is Argentine). The pièce de résistance: a snippet of Bublé's song "Haven't Met You Yet" plays in the background. Oy. We're happy for you guys, but… oy. 
Bublé and Lopilato, who have been married since March 2011, have openly spoken about wanting to have kids. "I've said to her a million times I'd love to have kids," Bublé told ET Canada in 2011. "But I always say to her, 'When you're ready — when you feel like you've lived and you've partied and done all the things you want to do. When you've worked your butt off, then tell me.'"
Apparently, the time has come. 
Follow Lindsey on Twitter @LDiMat.
[Photo Credit: WENN]
More:
Megan Fox serenades son with Michael Buble tunes
'The Voice' Adds Michael Buble to Team Blake
Reese Witherspoon to duet with Michael Buble

Celebs as Kids: Guess Who? (Celebuzz)