Michael Lohan and Kate Major Have a Baby Boy: Good Luck, Kid — You'll Need It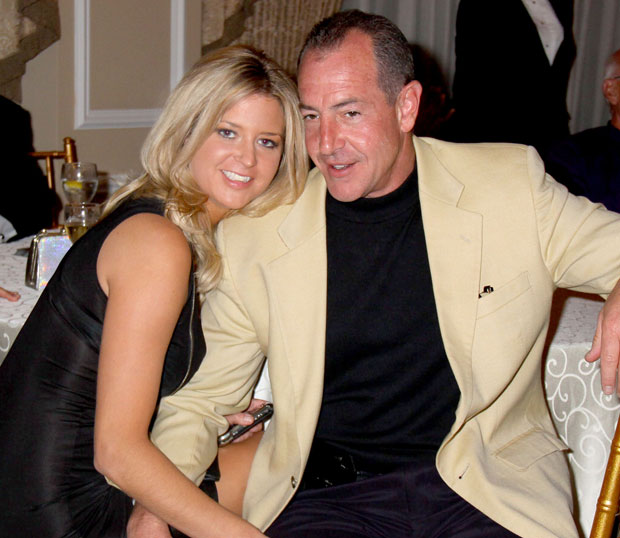 While Lindsay Lohan was busy trying to get out of her latest court date (and then showing up anyway), her father was busy with something much more important: welcoming newborn son Landon Major Lohan, his sixth child, with girlfriend Kate Major.
According to TMZ, Michael Lohan and Major's first child together arrived at a Florida hospital at 2:39 p.m. on Wednesday, Jan. 30. Landon weighed in at 7 lbs 5 oz and measured 19 3/4 inches long. The happy father was present for the birth and even cut the umbilical cord, in case that is a thing you wanted to know. (Now you do. Sorry.)
Listen, kid, life is not going to be easy as a member of this family. Between Lindsay and Michael's legal troubles, Dina's possibly drunk TV appearances, Ali's maybe-plastic surgery, and the fact that you have a half-sister most of your siblings didn't even know about until she was a teenager, you're in for some crazy times. And that's not even mentioning the fact that at various points in time your parents have had restraining orders out against each other, and even a no-contact order from the courts.
But there's hope for you, Landon! Your parents have already moved away to Florida for a slightly less media-saturated life. (Nevermind the fact that your dad constantly talks to the press about his famous daughter's problems when he has absolutely nothing to do with them.) Maybe in a bliss-fueled state following your birth they really will retreat from the public eye. You can go to preschool without TMZ wanting pictures of you for some inexplicable reason.
Here's your ticket to becoming the most well-adjusted Lohan of all: Unless your parents change their ways (which they very likely could!), just do the exact opposite of what they do.
Godspeed.
Follow Jean on Twitter @hijean
[PHOTO CREDIT: Wenn]
More:
Lindsay Lohan's Court Appearance: Where Does This Fall on Her Trainwreck Spedometer?
All the Insane Things Lindsay Lohan Did on the Set of 'The Canyons'
Lindsay Lohan's Probation Revoked, Violation Hearing Set

20 Hottest Celebrity Bikini Bodies