Michael Phelps, the Most Decorated Olympian in History: What's Next?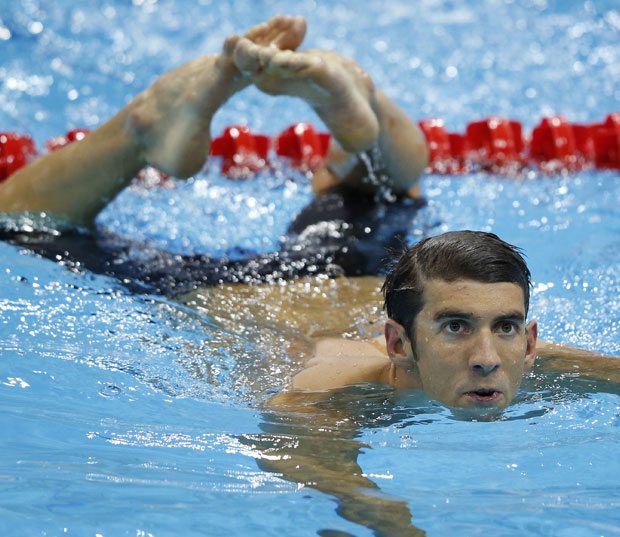 Michael Phelps may have gotten off to a shaky start at the 2012 Summer Olympic games, but the swimming superstar will be leaving London the most decorated Olympian in history. Phelps won his 20th Olympic medal (16 of which are gold) on Thursday when he bested fellow American swimmer Ryan Lochte in the 200-meter individual medley. The victory also made him the first man to win the same individual event at three consecutive Olympics. He broke yet another record on Friday when he earned his third straight gold medal in the 100m Fly, which marked his last individual race in the Olympics and brings his total to 21 medals. (Now, that's a way to go out.) 
So what does one do when he retires at the ripe old age of 27?  Since moving to Boca Raton and taking up backgammon seems like an unlikely next move for Phelps, what can the guy with Most Decorated Olympian on the special skills section of his résumé possibly do next? Phelps could easily go by way of many other famous Olympians and take the reality television route. Michael Johnson, Apolo Anton Ono, Rulon Gardner, Evan Lysacek, Kristi Yamaguchi, Shawn Johnson, Johnny Weir, Summer Sanders, Jonny Moseley, and, lest you forget, Bruce Jenner are among some of the former Olympians who've done just that. 
But before Phelps goes signing up for Skating With the Stars (hey, it could come back) we figured we'd show him what other options he has by following in the footsteps (or backstrokes) of some other famous, beloved Olympians. 
Go Back To School: Unlike Phelps, U.S. gymnast and gold medal winner, Nastia Liukin's career ended before she intended it to. The 22-year-old failed to land a spot on the 2012 gymnastics team after a devastating mistake on the uneven bars. Still, Liukin took her disappointment in stride ("Thank you to the 18,000 people that gave me a standing ovation tonight. I will remember this moment for the rest of my life", she tweeted to her supporters) and plans to attend NYU. Though Phelps is already a college grad (he attended the University of Michigan) he could always become Dr. Phelps. 
Become a Philanthropist: Many Olympians use their newfound fame and accolades for good after the games. Take, for instance, speed skater Dan Jansen who started the Dan Jansen Foundation in memory of his sister, which was founded to "to solicit financial support and distribute funds to charities, with an empasis on the fight against leukemia." There's also fellow speed skater Joey Cheek, the co-founder of Team Darfur, an athlete-lead organization devoted to raising awareness about the war in Darfur. (Sadly, Cheek's activism on behalf of Darfur caused him to have his visa revoked by China before the 2008 Beijing Games.) 
Become an Entrepreneur: Everyone's favorite pink-haired freestyle skier may have never won the gold during the Olympics (she did, however, nab silver and bronze) but Shannon Bahrke struck business gold when she founded the successful Salt Like City-based coffee company Silver Bean Coffee in 2002. Bahkre may not compete in the games anymore, but she's keeping the Olympic spirit alive at Silver Bean with her Athlete Blend coffees, "for every bag of coffee sold $1 goes back to the athlete and also a charity they have chosen." (For the record, Michael, doing those Subway commercials don't count.)
Launch a Successful Internet Company: In the athletic world, Jeremy Bloom was a force to be reckoned with. In addition to playing professional football, Bloom is a three-time World Champion, two-time Olympian and eleven-time World Cup gold medalist in freestyle moguls skiing. So it's no surprise that an overachiever like Bloom would be able to tackle another industry entirely: the Internet. Bloom co-founded the multi-million dollar online marketing company Integrate.com, a feat that earned him a spot on Forbes list of 30 Under 30. We get the distinct feeling fellow overachiever Phelps could pull something similar off. 
Start a Family: Many Olympic athletes have gone from the podium to parenthood after their successful run(s) in the games. And much like their attitude in the Olympics, for some it's go big or go home. Olympic alpine skier Picabo Street has had three children in her time since the 1998 Nagano Games, but no one has the market cornered on Olympian families quite like gold medal boxer George Foreman. The champ has 11 kids, five of which are named, well, George. Hey, we're sure there are plenty of women out there happy to bring a gaggle of Michaels and Michelles into the world.
[Photo credit: AP Images] 
More: