First Lady Makes Emotional Plea in White House's Last-Ditch Gun Control Push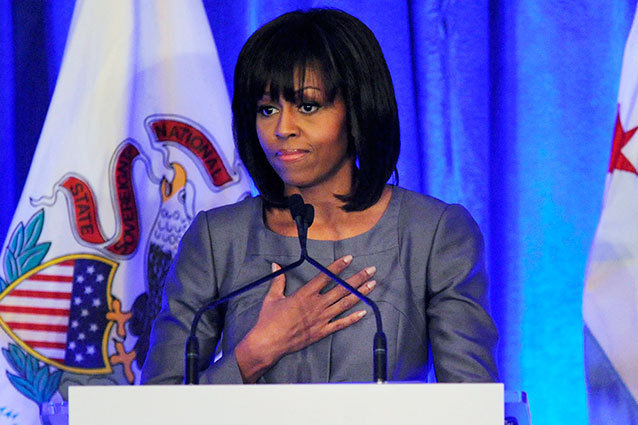 When 20 grade-schoolers and six teachers died in the Sandy Hook Elementary shooting four months ago, public reaction came swiftly: We needed to do something. It seemed impossible then that those high emotions would fade by the time winter turned to spring, but here we are.
Now, as Congress prepares to vote on a version of the administration's gun control proposals this week, even that watered-down-from-its-original-form measure — requiring expanded background checks — faces a blocked vote from some Republicans. So the White House is mounting a campaign for renewed public support, smartly putting first lady Michelle Obama front and center.
In an emotional speech Wednesday at a Chicago conference on youth violence, the First Lady compared herself to the honor student from her hometown who was shot and killed a week after she performed as a majorette in the inaugural parade. Breaking up as she recalled the story of 15-year-old Hadiya Pendleton, Obama called for Congress to take action as she drew parallels between her life and that of the Chicago girl.
"Hadiya Pendleton was me and I was her," she said. "But I got to grow up and go to Princeton and Harvard Law School and have a career and a family and the most blessed life I could ever imagine." That life resulted from simply having a safe neighborhood to grow up in, she added. "That was the difference between growing up and becoming a lawyer, a mother and first lady of the United States and being shot dead at the age of 15."
The speech marked a rare foray into major policy for Obama — and, it seems, an effective one in terms of garnering Internet attention. The question is whether it will be enough to counter the pro-gun lobby in time for real action.
Watch some of her speech here:
Hollywood.com correspondent Jennifer Keishin Armstrong is the author of Sexy Feminism and Mary and Lou and Rhoda and Ted, a history of The Mary Tyler Moore Show, due out in May. Visit her online at JenniferKArmstrong.com.
Follow Jennifer on Twitter @jmkarmstrong 
More:
Why It's Healthy to Obsess Over the First Couple  
Is It Sexist to Worship Michelle Obama's Look? 
Someone Doesn't Like Michelle Obama, Inconceivable! 
---
From Our Partners:


Eva Longoria Bikinis on Spring Break (Celebuzz)


33 Child Stars: Where Are They Now? (Celebuzz)