Michelle Obama: Movie Star!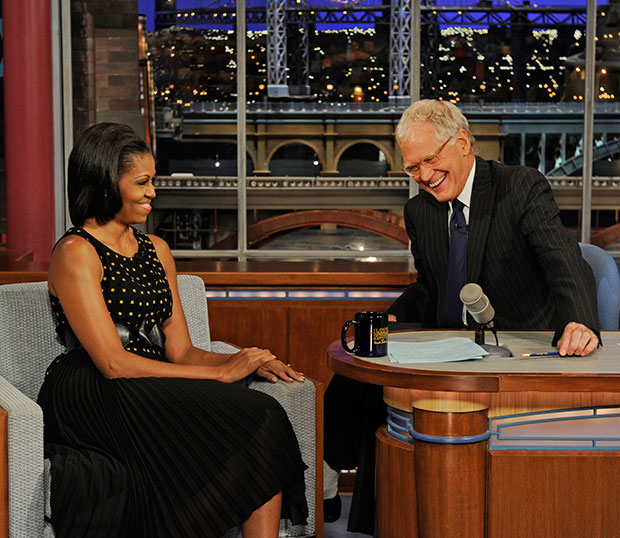 This year's convention season has boasted some time-tested big-screen performers on both ends of the spectrum: at the RNC, Clint Eastwood gave his rendition of The Invisible Man, while the DNC offered up Kal Penn taking on The Social Network (#sexyface). But the most moving performance of the lot didn't come from someone with a history on the screen or stage — it came from Michelle Obama. On Tuesday night, the first lady declared her love, support, and admiration for her husband and children in a speech that, politics aside, had to have left the heavy majority of viewers in a pool of tears.
The woman really knows how to move an audience. It wasn't just a well-written and earnest testament to hard work and family values, but a decidedly well-delivered one. Mrs. Obama handled the whole ordeal with impressive expertise; her enunciation, her perfectly timed pauses, her majestic command of vocal tempo… she knows her way around a speech. And if the first lady is this skilled just standing behind a podium, maybe she wouldn't do too shabby on the set of a movie?
We're all wondering where the future will take Michelle Obama, whether her husband wins a second term or not. Perhaps Michelle herself will get into the political game? Maybe she'll expand her work promoting healthy lifestyles for the American people? Those ideas are fine, but we're thinking bigger! Flashier! Something truly worthy of the first lady's camera-friendly skills. We're thinking showbiz!
Michelle has already taken her first steps into the pool of acting: in 2011, she made a guest appearance on the Nickelodeon series iCarly, playing herself. But that's small potatoes compared to what she's capable of — prime time! And she'd better get in on the action soon; Ann Romney has already been offered a spot on Modern Family. So what sort of role is best suited to launch the FLOTUS into the Hollywood world?
Television
As Michelle proved with the anecdote about the early days of riding around in Barack's broken down jalopy, she can earn a laugh or two. Plenty of today's greatest dramatic film stars started out as comedic players on TV: Tom Hanks, Jamie Foxx, George Clooney, Bronson Pinchot. So why not try her hand at guest starring on a sitcom?On a fifth season episode of Parks and Recreation, Michelle Obama guest stars as park-hating Councilwoman Deborah Humphries, who challenges her new co-councilor Leslie Knope at every turn when it comes to issues of natural preservation. It doesn't take long for Leslie to find out that Deborah's aversion toward the maintenance of public grounds stems from her own father's obsession with keeping parks clean… an obsession that drove him to madness.After a few of these roles, perhaps as a nutrition teacher on Community or a mentally unbalanced new roommate for Dave and Max on Happy Endings when they realize they can't feasibly afford that apartment on their own (and maybe a spot on the How I Met Your Mother finale as the final answer to the show's perpetual riddle), she might be able to take a step toward genre expansion with a dramedy…On a second season episode of Girls, Michelle Obama guest stars as New York University literature professor Selma Winter who inspires Shoshanna to explore other sources of inspiration beyond Sex & the City, effectively turning the young girl's life upside down… much to the chagrin of her cousin Jessa and friends Hannah and Marnie. But when the gang approaches Prof. Winter about her influence on Shoshanna, they find themselves equally changed by her wisdom.Following a self-effacing cameo on Veep and an appearance on Louie as an element of star Louis C.K.'s fever dream, Michelle can find herself on the road to straight drama.On a sixth season episode of Mad Men, Michelle Obama guest stars as Don Draper's ultimate rival: in an era where African-Americans face tireless oppression, Obama's character Janine Phillips has earned a role at the head of a rival ad agency's creative department. She's better than Don will ever be — and perhaps just as tortured by a haunting past of poverty and abusive parents. Can Richard Whitman accept that a new Don Draper has blossomed in the industry?And all it'll take from here is a turn on Breaking Bad playing an FBI Agent on the hunt for Walter White, or a Game of Thrones sorceress more powerful than the dragons themselves, and she'll be able to make the transition… to movies.
Movies
Now that she's exhibited her versatility with television, Michelle can break right into big name blockbusters. Who knows what sort of characters the indexes of J. R. R. Tolkien will bring to Peter Jackson's third The Hobbit movie? Perhaps producers will find a certain Mockingjay role perfect for Michelle in time for the third and fourth The Hunger Games movies? And there's got to be a Marvel villain the first lady can tackle in The Avengers 2. But speaking of superhero flicks…Michelle Obama joins the cast of the developing Justice League movie as Wonder Woman, embodying the strength and insuperability of the D.C. heroine, with a humanity that audiences couldn't imagine coming from anyone but Lynda Carter.Of course, there's always room for an voiceover role when it comes to big stars…Michelle Obama takes a role in the sequel to Finding Nemo, playing a misunderstood octopus named Edna, whose foreboding presence has prevented her from making any of the friends she's always dreamed of… until she meets the warmhearted Dory and sprightly young Nemo.And yes… a zany, slapsticky comedy is unavoidable…Michelle Obama accepts a part in The Hangover Part III as the head of the insane asylum wherein Zach Galifianakis' character is held, and is hell bent on making sure his cronies don't help him escape.Finally, Michelle's tour-de-force. An original project, written and directed by Mrs. Obama herself, about the trials and tribulations of being the first lady… in the year 3015.Michelle Obama taps into the works of Ray Bradbury and George Orwell to set up a science-fiction dystopia in her original project First Lady, Last Hope, in which she stars as the title character — Rochelle Amabo — a first lady who discovers a dreadful government cover up, unbeknownst to her presidential husband (played by Will Smith) and must stop at nothing to ensure justice for her country's people.And there you have it. A career on the rise. As you can see, long after her stay in the White House, Michelle Obama will have plenty of career opportunities. Let's just hope Sasha doesn't follow suit… child actors never turn out quite right.
[Photo Credit: CBS]
More:
Michelle Obama Doesn't Watch the RNC — VIDEO
President Obama Calls Up a Friend For a Mission of High Importance — VIDEO
Elephants Vs. Donkeys: The Pop Culture Election
From Our Partners:

Jennifer Lawrence Hopes 'House at the End of the Street' Scares People — VIDEO
(Celebuzz)

(Celebuzz)