Michelle Obama's Oscars Dress is Too Risque for Iran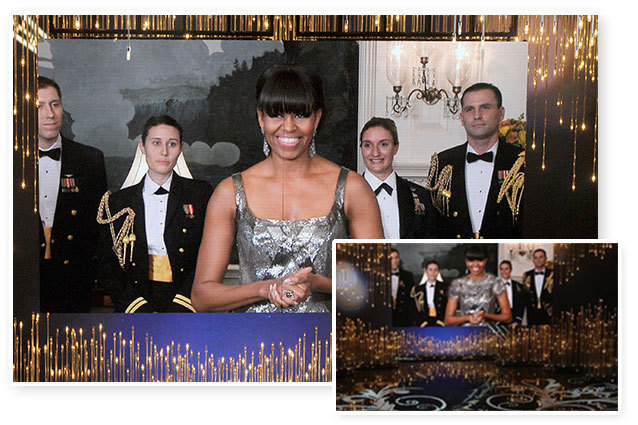 First Lady Michelle Obama shocked audiences with her surprise appearance as a presenter at the Oscars Sunday night, and she looked stunning in a glittering silver Naeem Khan gown with thin straps. But Iran's Fars news agency was stunned for a reason that had nothing to do with the U.S. FLOTUS' trendy bangs or keen fashion sense — they felt she was showing too much skin. Golnaz Esfandiari of the blog Persian Letters points out that in their coverage of the Oscars, Fars (which is affiliated with the Islamic Revolutionary Guards Corps) digitally altered Obama's gown to include a higher neckline and cap sleeves.
According to the Guardian, the change was made in order to "conform to Iranian restrictions on images of the female body in the media." While Iranian women shown on Iran's state television are required to wear a hijab that covers their hair, arms, and legs, foreign women — including dignitaries and actors — are allowed a bit more freedom. Clearly Obama's sleeveless dress asked too much of Iran's censors, but it was nothing the click of a mouse couldn't fix.  
RELATED: Ben Affleck's 'Argo' Wins Best Picture Oscar, Michelle Obama Shout-Out
Obama's "racy" dress was the least of Fars' worries, however. The agency took much greater issue with the movie to which she was presenting the Best Picture award: Argo. According to Esfandiari's translation of the article, Fars describes Argo as a "controversial and anti-Iranian" film, and calls its production company, Warner Bros., "Zionist."  
News of Iran's displeasure with Ben Affleck's take on the 1979 Iranian hostage crisis and elaborate CIA rescue mission is nothing new. In January, Iranian filmmaker Ataollah Salmanian announced that he will be making his own film abut the events, called The General Staff, which will be from the point of view of Iranian revolutionaries who helped free the Americans. 
RELATED: Iran Didn't Like 'Argo,' So It's Making Its Own Version
Fars also used the First Lady's presentation of the award to conclude that the win was politically motivated, the Washington Post reports, so it's a safe bet that the Iranian press would have been unhappy with Obama's appearance even if her killer biceps were covered. And now for the real moment of sacrilege: is it bad that, as amazing as I think Obama looked, I maybe kinda sorta prefer the censored version of the dress? I love a sleeve on a gown. 
Follow Abbey on Twitter @AbbeyStone
[Photo Credit: Chris Pizzello/Invision/AP Photo; No Credit]
---
From Our Partners:


25 Most Scandalous Celeb Twitpics (Vh1)


33 Child Stars: Where Are They Now? (Celebuzz)