President and Michelle Obama's 'Vogue' Interview, Or Why It's Healthy to Obsess Over the First Couple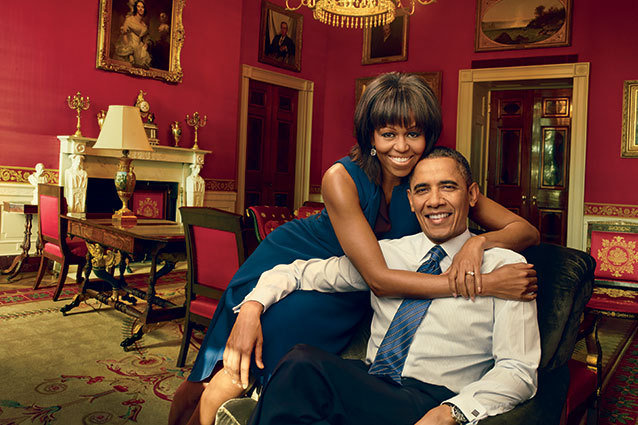 Could we be any more in love with President Obama and First Lady Michelle Obama? Yes, as a matter of fact, we can. 
Thanks to an interview with the impossibly charming First Couple in the April issue of Vogue, we get a candid glimpse into the lives of the POTUS and the FLOTUS so heart-wrenchingly perfect that an audible "aww" is the requisite response to half of the article's content — especially that picture-perfect photo above. And while President Obama's mentions of his beautiful wife through his 2012 Presidential campaign and numerous images of the handsome couple thoroughly enjoying each other's company have made us swoon since Obama became president in January 2009, nothing's given us quite the right amount of evidence for our fervent obsession until now, as the couple explains just how they keep their rock solid marriage so solid.
RELATED: Someone Doesn't Like Michelle Obama, Inconceivable!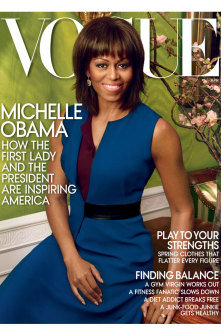 "As I joked at a press conference, now that [our daughters] want less time with us, who knows? Maybe you'll see us out in the clubs," says the President, speaking about what he and Mrs. Obama will do now that their girls, Sasha and Malia, are growing up. "Saturday night! … The kids are out with their friends. Let's go party!" jokes the FLOTUS. If the image of Mr. and Mrs. Obama shaking their groove thangs (they are still over the age of 45, after all) at what we can assume is a jazz club (they're not exactly going to be hitting up Karma on the Jersey Shore) isn't making your heart flutter and giggle all at the same time, you should probably check that your heart is still in good working order.
As the interview continues, the sense that Michelle and Barack are the Beyoncé and Jay-Z of the political world only heightens (in part because the President refers to Michelle as his Beyoncé, because she "upgraded" him). But because it's not yet Friday and we all need a reason to have our faith in romance restored, here are five reasons, straight from the president and first lady themselves, that we just can't stop loving the First Couple:
RELATED: Is It Sexist to Worship Michelle Obama's Look?
Michelle Still Teases Him About His Crappy Old Apartment: "That place caught on fire … And I was like, I told you it was a dump," says the first lady.
They Actually Go To Sasha and Malia's Games and Performances: "Sasha plays basketball with her little team at a community center in my neighborhood … there are no bleachers or anything—parents are just standing on the sidelines. And that's an experience that the president has, just like all those other parents," says former White House communications director Anita Dunn.
The President Thinks Michelle is a 'Good Mom,' But Not in a 1950s Way: "But I think it would be a mistake to think that my wife, when I walk in the door, is, Hey, honey, how was your day? Let me give you a neck rub. It's not as if Michelle is thinking in terms of, How do I cater to my husband? I think it's much more, We're a team, and how do I make sure that this guy is together enough that he's paying attention to his girls and not forgetting the basketball game that he's supposed to be going to on Sunday?" says the POTUS.
RELATED: Michelle Obama's New Look – PICS
They Learn From Each Other: "Well, patience and calm I'm borrowing," says the First Lady. "Or trying to mirror. I've learned that from my husband, that sort of, you know, ability to not get too high or too low with changes and bumps in the road . . . to do more breathing in and just going with it," says Mrs. Obama.
And Because It's Amazing, Let's Just Think About That Beyonce Reference One More Time: "Michelle's like Beyoncé in that song … 'Let me upgrade ya!' She upgraded me," says the president.
Follow Kelsea on Twitter @KelseaStahler
[Photo Credits: Annie Leibovitz/Vogue(2)]
---
You Might Also Like:


Topanga's Revealing Lingerie Shoot: Hello '90s!


Stars Who Have Lost Roles For Being Too Hot (Celebuzz)