Michelle Shocked Apologizes for and Explains Homophobic Tirade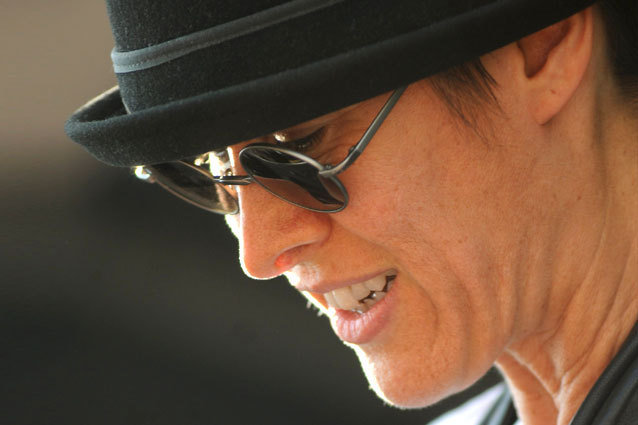 Long a proponent of progressive and open-minded politics, folk singer/songwriter Michelle Shocked surprised her fans when she delivered an allegedly anti-gay tirade during a San Francisco-based performance on Sunday. Some of Shocked's more pointed remarks during a speech at the end of the show included the statement, "Once Prop 8 gets instated, and one preachers are held at gunpoint and forced to marry the homosexuals, I'm pretty sure that that will be the signal for Jesus to come on back," and her command of her present fans to take to Twitter with the message, "'God hates Faggots.'" But in response to the resultant backlash the music artist has received from her rant, Shocked has offered an apology and an explanation: she was being satirical.
Shocked released the following statement, via KQED, attempting to explain (admittedly, still a bit nebulously) that her remarks were intended to mirror the ignorance of existent parties:
"I do not, nor have I ever, said or believed that God hates homosexuals (or anyone else). I said that some of His followers believe that. I believe intolerance comes from fear, and these folks are genuinely scared. When I said "Twitter that Michelle Shocked says "God hates faggots," I was predicting the absurd way my description of, my apology for, the intolerant would no doubt be misinterpreted."
Although admitting they are easy to misinterpret (for the tragic reason that the ideas expressed by the singer are hardly beyond the realm of possibility for many individuals in our country to uphold), Shocked maintains that her comment were not intended to propagate or promote any sort of hate or intolerance — only to call attention to, or even condemn, it.
RELATED: Almost All of Michelle Shocked's Concerts Canceled After She Tells Crowd "God Hates Gays"
Shocked's statement continues: 
"And to those fans who are disappointed by what they've heard or think I said, I'm very sorry: I don't always express myself as clearly as I should. But don't believe everything you read on facebook or twitter. My view of homosexuality has changed not one iota. I judge not. And my statement equating repeal of Prop 8 with the coming of the End Times was neither literal nor ironic: it was a description of how some folks – not me – feel about gay marriage.
"The show, and the rant, was spontaneous. As for those applauding my so-called stance that "God Hates Faggots," I say they should be met with mercy, not hate. And   I hope that what remains of my audience will meet that intolerance with understanding, even of those who might hate them.
Folks wonder about my sexuality, but denying being gay is like saying I never beat my husband. My sexuality is not at issue. What is being questioned is my support for the LGBT community, and that has never wavered. Music and activism have always been part of my work and my journey, which I hope and intend to continue. I'd like to say this was a publicity stunt, but I'm really not that clever, and I'm definitely not that cynical.
But I am damn sorry. If I could repeat the evening, I would make a clearer distinction between a set of beliefs I abhor, and my human sympathy for the folks who hold them. I say this not because I want to look better. I have no wish to hide my faults, and  – clearly – I couldn't if I tried."
It is up to the fans to decide how they wish to interpret the singer's message. Was she being sincere when she made her horrific remarks, or is the sincerity to be found in her apology and explanation? Read Shocked's statement and listen to her alleged tirade below, and determine for yourself:
Follow Michael Arbeiter on Twitter @MichaelArbeiter
[Photo Credit: Leon Morris/Getty Images]
---
You Might Also Like:


15 Oscar-Winning Nude Scenes


Young Jack Black Is Totally Unrecognizable