Almost All of Michelle Shocked's Concerts Canceled After She Tells Crowd God Hates Gays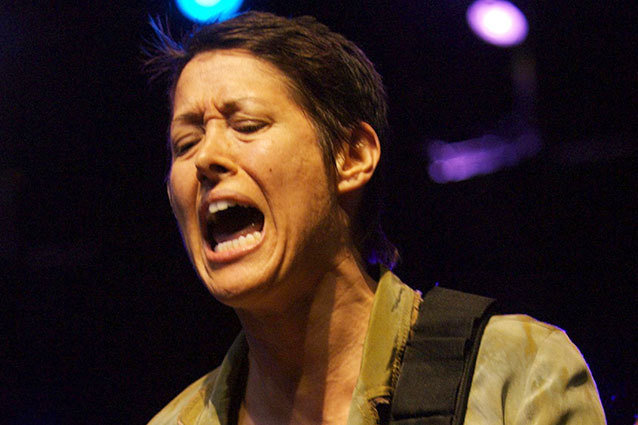 When washed-up folk singer and former bisexual lesbian Michelle Shocked got up in front of a crowd in San Francisco on Sunday and told the crowd (in the gayest city in America, mind you) that "God hates f**s" she probably expected lots of ire, but she probably did not expect to be out of a job. Ten out of the 11 gigs she had booked for the rest of her North American tour (which was being held to no fanfare even before she ran off her mouth) have been canceled. Seems like the promoters of those shows don't want to associate themselves with her hateful point of view.
While on stage in San Francisco she said, "When they stop Prop 8 [law outlawing same sex marriage in California] and force priests at gunpoint to marry gays, it will be the downfall of civilization, and Jesus will come back… You can go on Twitter and say, 'Michelle Shocked says God hates f**s.'" Well, she certainly doesn't mince words. And, just so you know, God hates bad haircuts too, so I guess Michelle will be burning in hell with the rest of us. 
RELATED: Brett Ratner No Longer Producing Oscars
I can safely say that I don't care a lick what does or does not happen to this born again Christian, but I'm glad that speaking out against gay people and spreading hate speech publicly is getting people fired. Brett Ratner got canned from a job producing the Oscars for saying the same awful word a year ago, and now this. Finally the F-word (the three letter one, not the four letter one) is just as bad as all the other hateful words we express only with initials. 
Update: Shocked has apologized for what she said. 
"I do not, nor have I ever, said or believed that God hates homosexuals (or anyone else). I said that some of His followers believe that," she said. "When [I said to] tweet that "Michelle Shocked says 'God hates f**s,' [I was] predicting the absurd way my description of, my apology for, the intolerant would no doubt be misinterpreted. The show was all music, and the audience tweets said they enjoyed it. The commentary came about ten minutes later, in the encore."
Well, now all is forgiven! 
Follow Brian Moylan on Twitter @BrianJMoylan
[Photo Credit: Tom Zinn/WENN]
---
You Might Also Like:


15 Oscar-Winning Nude Scenes


Young Jack Black Is Totally Unrecognizable