Mike Tyson Launches One-Man Show in Vegas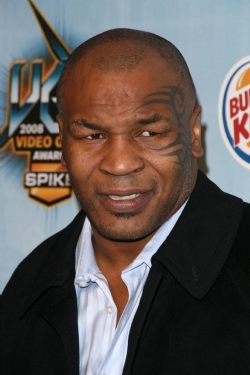 There's good news for the thousands of guys who flock to Vegas hoping their bachelor party will rival The Hangover: Your last night of freedom can now include Mike Tyson. The former heavyweight champion is set to star in the one-man show Mike Tyson: Undisputed Truth — Live on Stage next month at the MGM Grand in Las Vegas. 
Director Randy Johnson, who also co-wrote the show with Tyson's wife Kiki, says, "It's a theater piece, not a lecture, but a real one-man show." The piece is based on Johnson's interviews with Tyson and will include video and live music to help tell his story. 
After being convicted of rape, serving a three-year prison sentence, and biting off a chunk of Evander Holyfield's ear, in the late '90s the idea of Tyson becoming a stage actor probably would have sounded like a Saturday Night Live sketch. However, over the past decade he's publicly repented. We got to see a different side of the boxer in the documentary Tyson, his pigeon-centric show on Animal Planet, and the Comedy Central roast of Charlie Sheen, and it seems people are willing to forgive him for his troubled past. 
The Vegas show runs from April 13-18, and Johnson says that when it concludes, "we'll review what happened, look at the next steps, and move forward. The hopes for this are to tour the world — the fan base is staggering."