Mila Kunis vs. Jennifer Lawrence: The Battle to Be America's Best Friend Forever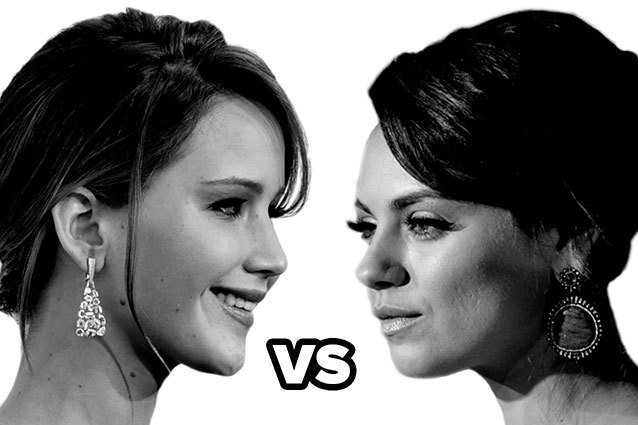 Alert the media: cool girls are having a moment! But having a moment doesn't come without some controversy of its own: in fact, America's rabid friend-crush on Jennifer Lawrence has gained a bit of competition from Mila Kunis.
The Oz The Great and Powerful star reminded us not to count her out of the game, because she, too, is a normal, awesome, funny, charming human being. We already knew this about Kunis, but the star reaffirmed our thoughts — and momentarily stole the spotlight back from Lawrence — with her recent interview with Chris Stark of BBC Radio One's Scott Mills Radio Show (see video below). She agreed to go to a Watford Football Club game with Stark and his lads: the colorfully-named Sir Dosser, The Convict, and Chango the Beast (who were going to be infinitely jealous of all the Lad Points he accumulated from his Kunis time. Probably while necking a pint or drinking Jägerbombs and lad bombs). There was talk of Nando's, Dickos, trou dropping, meat pies, and Baywatch. It was both endearing and hilarious — and made all the more awesome by Kunis' candor.
RELATED: Awesome Alert: Mila Kunis Producing Feminist Drama for CW
The battle for America's Number One Best Friend has been raging slowly below the surface of our adoration of these two ladies, but today it bubbled over the edge and out into the open. How, oh how, can we pick just one to be America's Best Friend? Especially when Kunis and Lawrence are both so awesome? Is it possible to choose just one when they both give cool such a good name? We decided to break it down, battle royale style, and determine, once and for all, who deserves to be America's Ultimate Cool Girl Best Friend Forever. It's a hard job, but somebody's gotta do it.
So what makes Kunis and Lawrence so cool? Well…
RELATED: Jennifer Lawrence and Josh Hutcherson Light Up 
They Defend Their Friends Awesomely
Mila Kunis: At a Russian press event in support of her film Friends With Benefits, Kunis laid down the law — in Russian! — to defend her co-star Justin Timberlake's choice to do movies rather than just music.

See? Awesome. And totally a Best Friend move. On a scale of 1 – 10, Kunis gets 10 BFF Points.
Jennifer Lawrence: When your friend and Silver Linings Playbook costar is Bradley Cooper, a man recently single, you do him a solid and set him up with your friends!

No question: Lawrence gets 10 BFF Points — because this benefits both Cooper AND her girlfriends who are probably forever grateful for the opportunity to be considered a potential mouth partner for People Magazine's 2011 Sexiest Man Alive. 
They Star in Dior Ads Awesomely
Mila Kunis:

Chic, black & white, and timeless? 10 BFF Points.
Jennifer Lawrence: (behind-the-scenes)
Chic, black & white, and timeless, again? Yep, that'll be another 10 BFF Points.
They Handle The Unexpected Awesomely
Mila Kunis: Press days can be insanely monotonous and boring. Stars are forced to answer many of the same questions over and over again, for hours on end. So, naturally, Mila jumped at the chance to chat up Chris Stark about his own life — and still managed (as you'll see at the 4:50 mark) to do her job and publicize the movie.

Obviously, 10 BFF Points.
Jennifer Lawrence: Jack Nicholson shows up in the middle of a post-Oscar interview. Hilarity ensues.

No question, 10 BFF Points.
They Handle Embarrassment Awesomely
Mila Kunis: When talking about her boyfriend Ashton Kutcher on Ellen, Kunis found herself a bit flustered and shy.

"Give or take a couple minutes!" Being nervous makes her eyes tear up? C'mon! 10 BFF Points.
Jennifer Falling at Oscars: Every star's worst nightmare came true for Lawrence when she made her way to the stage to accept her trophy.

No caption necessary: 10 BFF Points.
RELATED: Jennifer Lawrence Was Hilarious at Oscar Press Conference
THE GRAND TOTAL:
Jennifer Lawrence: 40 BFF Points
Mila Kunis: 40 BFF Points
It's a dead heat!
Man, making decisions is hard. Who could possibly come out on top in this battle? Can there really, truly be only one Best Friend Forever for America? How are we supposed to choose? Life is hard enough without having to make such a decision. Oh, the humanity! Perhaps in a time like this, it's best to remember the wise words of Mindy Kaling when talking about the concept of Best Friend: "Best Friend isn't a person, it's a tier." And it is with hearty agreement we say: Mila and Jennifer, you are the Best Friends of America!
Follow Alicia on Twitter @alicialutes
[Photo Credit: Hollywood.com Illustration]
---
From Our Partners:


40 Most Revealing See-Through Red Carpet Looks (Vh1)


15 Stars Share Secrets of their Sex Lives (Celebuzz)