Makeups, Breakups, and Foam Fingers: Miley and Liam's Relationship Timeline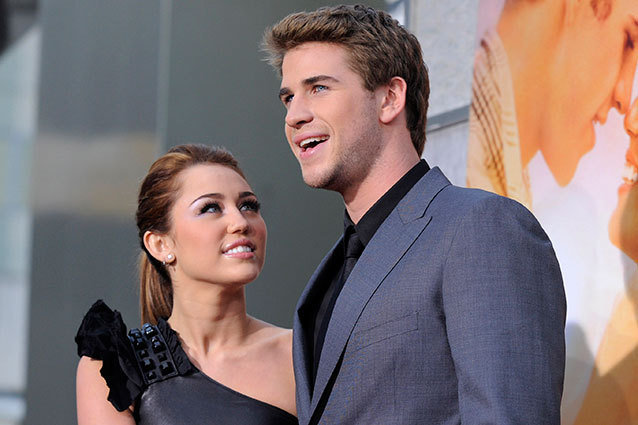 Miley Cyrus and Liam Hemsworth were one of Young Hollywood's power couples, and after four tumultuous years, they've finally called it quits for good. Don't hold your breath for another reconciliation this time, since Liam seems to have already moved on. From a meeting that was literally out of a Nicholas Sparks novel to the haircut that changed everything and the twerk that was the final nail in the coffin, we're taking a look back at all the ups and downs in the Miley and Liam saga with this handy timeline.
June 2009: Miley and Liam film The Last Song, which is the setting for their first kiss. Unless you're already married or have no soul, it's apparently impossible not to fall in love on the set of a Nicholas Sparks movie.
September 2009: The two are caught in the middle of said kiss and confirm that they are dating.
March 2010: The couple make their red carpet debut at the premiere for The Last Song. She is clearly excited to show him off to the world.
August 2010: Miley and Liam split for the first time. And so the roller coaster begins.
September 2010: They make up and start dating again.
November 2010: Kaput again! The world feels yanked around. The tabloids are happy.
April 2011: They're a couple once again. Could they be in it for the long haul this time? For a while the answered seemed to be yes because they're able to avoid drama for a year, and then…
May 2012: They're engaged! Things are looking really promising now, until…
August 2012: Miley cuts off all her hair, and the downward spiral begins.
December 2012: The couple are still going strong, as they're seen on a romantic vacation in Costa Rica.
January 2013: Rumors of another breakup start circulating after Miley is seen without her engagement ring. The couple will not be photographed together for the next five months, during which Miley starts to twerk more and wear clothes less.
June 2013: The couple are finally photographed together on a date night. Will this finally put all the breakup rumors to rest?
August 2013: Miley supports Liam at his Paranoia premiere, and they still look like a happy couple. But don't get too excited.
August 2013: Miley gives her infamous twerking performance at the MTV VMAs. It may have been the performance of her life, but it spelled death for her and Liam. He is reportedly "shocked" and "embarrassed" by her performance, and it doesn't look like the couple will be able to recover.
September 2013: And so it ends. The couple officially confirm that they called off their engagement, and Liam is caught kissing Mexican singer Eiza Gonzalez the very next day. Miley even unfollows Liam on Twitter, so you know they must be over for good.
Let's try to remember them in happier days:


VIA


VIA


VIA


VIA

VIA

VIA
More:
The Future of Miley Cyrus
Cher Covers Miley Cyrus
Ariana Grande and Nathan Sykes Confirm Romance
---
From Our Partners:


40 Most Revealing See-Through Red Carpet Looks (Vh1)


15 Stars Share Secrets of their Sex Lives (Celebuzz)