Home
Celebrities
Collaborating With Kanye West May Be Just What Miley Cyrus Needs
Collaborating With Kanye West May Be Just What Miley Cyrus Needs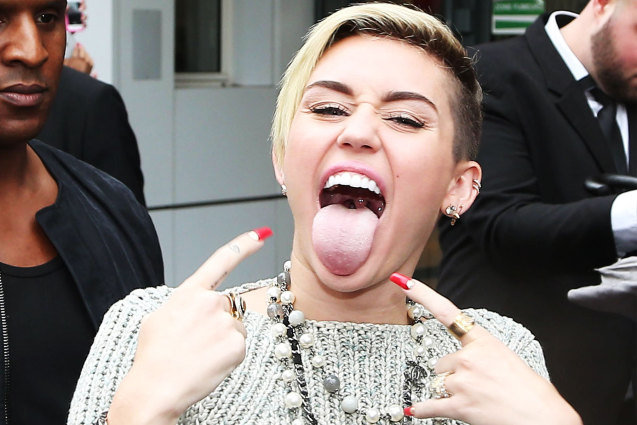 KCS Presse / Splash News
Looks like Miley's still trying to make her mark on the hip-hop world. According to Mike Mill, the executive producer of Cyrus' album Bangerz, the singer has hit the studio with Yeezus himelf, Kanye West — the two are alledgedly teaming up to work on the remix for West's song "Black Skinhead." Unfortunately for Cyrus, the news comes just after the release of "23," the Mike Will Made It track on which Cyrus makes her rapping debut and also features rappers Juicy J and Wiz Kalifa.
It's easy to dismiss "23" as just another bullet point in the rundown of Cyrus' recent "edgy" behavior, or analyze the lyrics for another way that she has gone off the rails, so let's instead look at the song itself. Objectively, it's… not good. Despite a dancable beat and a decently catchy chorus, the song is pretty much a retread of the 2010 Far East Movement song "Like a G6." No, seriously: listen to "23" and you'll have Dev stuck in your head before it ends. Despite all of the hype surrounding it, the song is just really unremarkable. 
In fact, even after Cyrus' presence is factored in, there's still not anything particularly interesting about it. Singers make guest appearances on rap songs all the time and Cyrus' brand of "rapping" can already be found on the charts, courtesy of Ke$ha and Karmin's Amy Heidemann.  Like her performance at the VMAs, the whole situation seems like a lot of fuss over something that ultimately lacks substance. And that's the problem: it's as if once she decided on her new persona, Cyrus has just been throwing ideas around to see what sticks. She's relying on controversy instead of quality — which is a shame, as she is actually very talented — and it will only harm her in the long run. By signing on to do every medicore hip-hop song and sloppy, wacky performance she can, Cyrus doesn't seem to be putting any actual thought into anything she does. 
Which is why her studio time with 'Ye might actually do her some good. West is known for being a perfectionist, and no matter how well-recieved whatever he releases is, the level of thought and work that goes into his work is obvious. There's no way that anyone will even hear whatever results from the Cyrus/West collaboration unless it meets his extremely high standards, meaning that it's likely to be better recieved — and just plain better — than "23." And, after all, what she really needs right now is something that's inarguably good. 
Hopefully, some time in the studio with West will be just what Cyrus needs to start being more discerning about the projects she releases and the performances she gives. Because after a while, constantly trying to be edgy is just really boring. Maybe, if it's really good, Nas will finally come to know who Miley Cyrus is. 
More: 
Miley Cyrus Still Trying to Get Our Attention in 'Wrecking Ball' Video
Tina Fey and Miley Cyrus to Host SNL
Miley Cyrus is the Real Heisenberg 
---
From Our Partners:


A Complete History Of Twerking (1993-2013) (Vh1)


15 Stars Share Secrets of their Sex Lives (Celebuzz)