A Cyrus Carol: 3 Ways Miley's Career Could Go Based on Her New 'Rolling Stone' Interview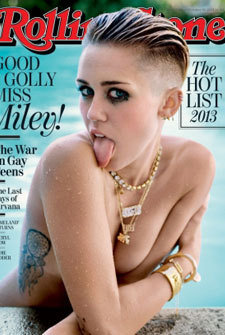 Rolling Stone
Miley Cyrus covers the new issue of Rolling Stone with the now familiar sight of her tongue hanging out. The cover image is unfortunate, because it overshadows a great interview that begins with a mix-up of the Baldwin brothers (Stephen is a big fan, not Alec), passes through her disintegrating relationship, and ends with a club scene right out of one of her music videos. On that long, eventuful ride, Miley comes across as clueless, self-aware, pretentious, smart, foolish, and pretty fun. While she might not have the best head on her shoulders, it's a 20-year-old head. There's plenty of time and potential for it to become smarter and savvier. But that also means there's plenty of time for it to stagnate and continue in its decline to post-Disney tragedy. Let's look at some potential paths for Miley in the wake of Twerk-Gate. 
The Good: As I do with all child stars, I implore you, Miley, take some night classes. Nothing bad can come of more knowledge. In fact, that's the one piece of advice Miley would do well to heed: learn something! Learn the history of the hip hop you say you love, and learn why your "twerking" feels like a sign of disrespect to the black community. Learn what slut-shaming is, and whether or not you're being unfairly judged based on your gender. Armed with this knowledge, Miley then brings something to the table to collaborations with the famous hip hop stars she texts, and brings a whole new audience to their work.  
The Bad: Remaining gleefully unaware, Miley seems convinced she's black. Never daring to do more than pay lip service to her appreciation of black artists, her friendship with Kanye West falls flat and sparks a lame fued, which Steve Carrell jumps on, unhappy about her dangerous driving. (Quoth Miley: "It's like Dan in Real Life is watching me right now!"). After that, Miley is driven out of her neighborhood and left with some stale schtick and not enough good sense to take a break from the business. 
The Ugly: Like Justin Bieber, her doppleganger and her self-proclaimed mentee, Miley lets her coddling parents and colony of sychopantic fans inflate her ego. Then, convinced of her swaggy adulthood, Cyrus wastes her money on increasingly elaborate party buses and winds up singing "Party in the USA" on a series of mall tours around Middle America. It doesn't seem like it'll come to this, but just in case, someone should probably make sure she doesn't have any plans to buy a monkey.
More:
Cher's New Song is a Cover of a Miley Cyrus Ballad
Cher Attatcks Miley Again
The Good, the Bad, and the Ugly Parodies of Miley Cyrus' 'Wrecking Ball'
---
From Our Partners:


A Complete History Of Twerking (1993-2013) (Vh1)


15 Stars Share Secrets of their Sex Lives (Celebuzz)