Why Miley Cyrus Smoking Pot Onstage Was Actually an Act of Cultural Diplomacy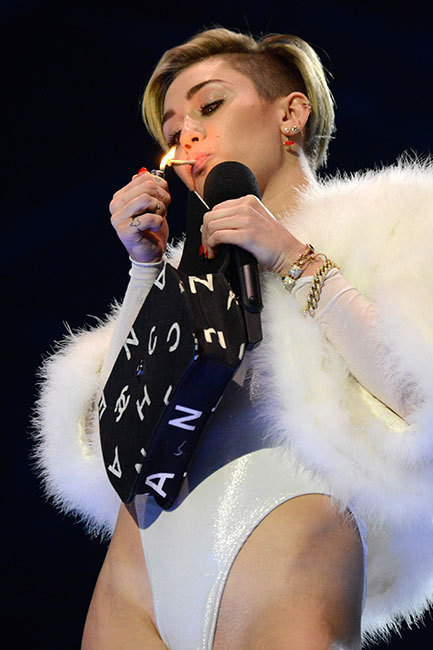 Kevin Mazur/WireImage
Miley Cyrus has taken her "Just Being Miley Tour of Antics" abroad this weekend when she appeared at the MTV European Music Awards ceremony, which was held in Amsterdam. While she was accepting an award for her "Wrecking Ball" video, she appeared to pull a joint from her purse and light it up onstage. When MTV re-aired the awards in the U.S., they cut her speech short, which seemed to confirm that Cyrus had indeed smoked pot onstage. 
But before we jump to conclusions about Cyrus or judge her latest behavior, we should consider the fact that Cyrus was a tourist in Amsterdam, a place where marijuana is both legal and a significant part of the culture. Perhaps instead of simply trying to shock the world yet again, Cyrus was actually trying to be a respectful visitor and abide by the laws and customs of her host country. After all, Americans abroad don't have the best reputations, so it's possible she was just trying to make a good impression. We've come up with five other possible performances that Cyrus could have staged as part of her goal to be a respectful tourist, based on things that are illegal in the United States, but legal elsewhere in the world. 
Polygamy
While polygamy is illegal in the United States, there are many countries — primarily in the Middle East and Africa — where it is perfectly legal to marry more than one person at a time. If Cyrus were performing in one of those countries, instead of lighting up a joint, she would instead plan a performance of "We Can't Stop" staged as an elaborate wedding officiated by one of her backup dancers. She would then proceed to marry one of her teddy bear mascots, three other backup dancers, and Lil Kim, who would also provide a guest verse for her next single. On the plus side, though, Cyrus could still wear her EMAs outfit for a wild take on wedding white. 
Gambling
As detailed in the film Runner Runner, the U.S. has all but outlawed online gambling, leading to a rise in offshore and foreign gambling, meaning that if Cyrus were to perform in a country like Panama, she would have revised her performance to be an elaborate game of poker. As she twerked her way through her hands, Cyrus would gamble off things like the grill she wears in her "We Can't Stop" video or one of her Hannah Montana wigs. However, in order to keep things as edgy as possible, she would treat her performance like a game of strip poker and take off an item of clothing each time she lost a hand. 
Dog Fighting
Understandably, if you are caught dog fighting in the United States, you will likely go to jail. However, that's not the case in Pakistan, where dog fighting is legal and popular, meaning that if Cyrus were to perform there, she would feel obligated to pay her respects to her host country and join in. However, Cyrus is a noted animal lover who owns several rescue dogs, and so would choose instead to dress up some of her backup dancers in costumes that resembled cuddly, possibly-high cartoon dogs and have them "fight" onstage until she finally ends the song and a fight with a bout of twerking that brings peace and happiness to all of her dancer mascots. 
Dying in Parliament
For hundreds of years, it was illegal in Great Britain for anyone to die inside the Parliament building. The law was recently repealed by Justice Secretary Jack Straw — a feat which, were she performing in the U.K., Cyrus would celebrate with an elaborate show where her twerking, lack of pants, mature lyrics, and penchant for sticking out her tongue would shock "members of Parliament" into having a "heart attack." Eventually, though, her "bangerz" would resurrect them, and Cyrus would lead all of the revived MPs through some sort of sexy dance routine. Ideally, this would also end with her fist-bumping a Queen Elizabeth look-alike. 
Being Released from Prison
In Canada, upon your release from prison, you are legally required to be provided with a gun filled with bullets and a horse so that you can ride out of town. We're not sure if this law is actually still regularly carried out, but it would be a great way for Cyrus to channel her southern upbringing for a performance up north. The spectacle would begin with Cyrus being released from prison, which, in this case, is a metaphor for her Disney years, complete with long, blonde wig. After pulling off the wig to reveal her shorter 'do, she would twerk away from her past onto a new stage setup, and hop on a mechanical bull in order to "ride forth" into her new, edgy future. 
So, before you judge, consider thanking Cyrus instead for simply trying to do her part to improve American relations abroad. And if she's ever looking for new performance ideas, we're always here to help.