Was Miley Cyrus Snapped Smoking a Blunt? Let's Examine the Evidence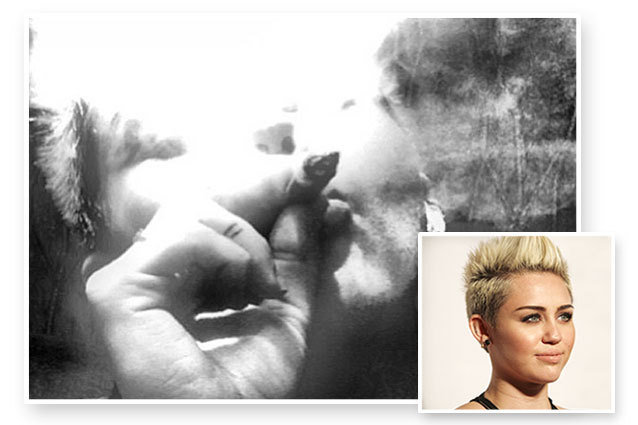 Anyone who follows the goings-on of Miley Cyrus closely (or even casually reads about her on the Internet) knows that she loves the green stuff. Weed, that is. From her Bob Marley birthday cake to her salvia scandal, the young star has made it clear that she is no stranger to the high life. So when a picture of someone who seemed to be Miley doing what appeared to be smoking (along with the caption, "High as fvck") showed up on an Instagram account that claimed to be run by Miley, no one was very surprised. 
But then, a twist! Once the photo started making waves in gossipland, Cyrus took to Twitter to clear some things up. Early Wednesday morning, Cyrus tweeted, "I don't have an Instagram." So then, if logic follows, Cyrus didn't post the photo.  
RELATED: In Defense Of Miley Cyrus: Stop the Slut-shaming Once and for All
But the question remains, is the blonde, spiky-haired person in the photo Cyrus… or an impostor? Let's examine the evidence:
Evidence That This Really Is Miley Getting "High as F**k" 
1. As E! points out, the photo's subject has an equal sign tattoo on the ring finger of her right hand… just like Miley!
2. The photo's subject has the aforementioned blonde, spiky hair that Cyrus currently sports. 
3. Cyrus' (also aforementioned) penchant for blazing does make her a likely candidate for the mysterious, smoke-covered person's identity. 
RELATED: Miley Cyrus Covers 'Jolene' Pre-haircut, Reminds Us What She Used To Be Like — Video
Evidence That the Photo is a Fake
1. The fact that Cyrus says she doesn't have an Instagram can't be discounted. So the account from which the photo was posted must be a fake. Plus…
2. Things like tattoos and haircuts can be mimicked. 
3. The photo hasn't surfaced elsewhere on the Internet….yet…so how would a fan with a fake Miley Instagram account get a hold of it? 
RELATED: Miley Cyrus Donated HOW Much to Charity?!?
Or, the third option (and I'm sure savvy readers like yourselves are way ahead of us here): This could be a real photo of Cyrus posted from a fake account. Since the account is fake, we know that Cyrus didn't post any of its photos on Instagram herself — but she is still clearly in each of the other photos. Why would this one be any different? And, if we want to get into semantics here — which, of course, we do — Cyrus never said anything whether the photo was real. All she said was "I don't have an Instagram." Meaning, some super sneaky Miley superfan could somehow have gotten a hold of the photo (from where is still unclear) and posted it without Cyrus' knowledge.
BAM. We choose Option No. 3. 
Follow Abbey on Twitter @AbbeyStone
[Photo Credit: Instagram; FayesVision/Wenn]
---
From Our Partners:


Bradley Cooper Dancing Is Surprisingly Awkward, Sweaty (Vh1)


Kate Upton Bares All in Nothing But Body Paint: Video (Celebuzz)