Mourning Mindy McCready: Carrie Underwood, Jason Aldean, and More Say Goodbye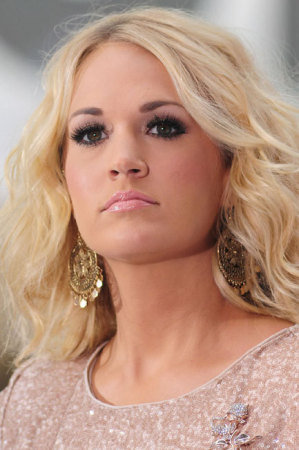 As word of country singer Mindy McCready's tragic passing spread, countless fans were rocked by the untimely death of the star. But her colleagues in country music were shaken as well, and many turned to Twitter to express their deep sadness over her passing. Carrie Underwood, Wynonna Judd, and LeAnn Rimes Cibrian are just a few of the folks turning to fans on the social medium to work out their grief.
Here's what the stars have to say about the deceased singer. She will be greatly missed.
RELATED: Mindy McCready: A Legacy Told Through Song
Carrie Underwood (@CarrieUnderwood): "I grew up listening to Mindy McCready…so sad for her family tonight. Many prayers are going out to them.."
Wynonna Judd (@WynonnaMusic)via several tweets: "Sleep in Heavenly peace Mindy." " I sang a song for Mindy tonight & as I was finishing the last … Chorus. The thought flashed in my mind of the night when I was 18 & I tried to commit suicide … I can still remember that overwhelming feeling of just wanting the pain to stop. I didn't necessarily want to die, but I knew … That I just couldn't go on feeling so lost. It will always be a mystery as to why some make it through that dark night of the soul & why … Some do not. I feel so sad (& angry too), that addiction continues to take so much from people & those who love them…"
Jason Aldean (@Jason_Aldean): "Just heard about Mindy McCready. My thoughts and prayers are with her 2 boys and her family."
PeeWee Herman (@peeweeherman): "I'm a huge country music fan, sending heartbroken love to the family, friends and admirers of Mindy McCready. R.I.P."
LeAnn Rimes Cibrian (@leannrimes): "My heart goes out to Mindy McCready's family. I knew her well. It's a horribly tragedy. May peace be with her son's."
Steel Magnolia (@SteelMagnolia11): "A sad loss of talent…Mindy McCready. 10,001 angels"
John Rich (@johnrich): "Very sad to hear about Mindy McCready. When I was in Lonestar she was our label mate and we were friends. A tragic end to a talented life."
What did McCready's music mean to you? Share your thoughts in the comments.
[Photo Credit: Dan Jackman/Wenn]
---
From Our Partners: 

'Groundhog Day' Cast: Where Are They Now?

Bradley Cooper Dancing Is Surprisingly Awkward