Mindy McCready, Country Singer, Dies at 37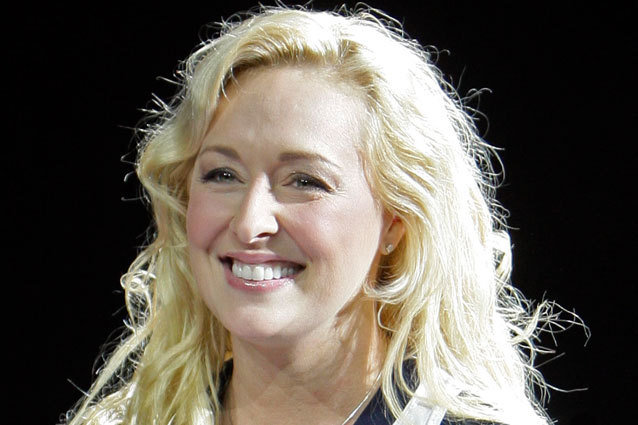 Yet another Celebrity Rehab alum has succumbed to her demons. Mindy McCready, the young promising country singer who scored with hits like "Guys Do It All the Time" and "Ten Thousand Angels," was found dead at 37 years old in her Arkansas home. According to a press release from the Cleburne County Sheriff's Office, the singer passed away following an apparent self-inflicted gunshot wound.
"It is with the deepest sadness we say goodbye to an extraordinary and gifted talent, a daughter, a mother and friend, Miss Mindy McCready," read the official statement from McCready's rep. "Our attention at this time is devoted to the needs and care of Mindy's family. As Mindy spent much of her life in the public eye, we respectfully request your consideration and sensitivity to enable friends and family this time of 'quiet.'" The statement went on to say that a memorial planned by her family and friends would be held in Nashville "in the coming days."
The news of her death comes just one month after McCready's 34-year-old producer boyfriend, David Wilson, died of a gunshot wound. Currently, Wilson's death is being investigated, but McCready has denied any involvement in his death. "Oh my God, no," she told NBC's Andrea Canning on Today in January. "He was my life. We were each others' life."
Since Wilson's death, McCready has been vocal about her struggles coping with his passing and her custody battle involving her two sons, 6-year-old Zander and 9-month old Zayne, who were taken from McCready last month. The singer told ABC News late January that she had never survived anything as "painful" as Wilson's death. "He didn't just touch my heart, he touched my soul," she said about Wilson, who fathered Zayne. "He was my soulmate."
RELATED: 'Celebrity Rehab' Deaths: Did the Stars Get the Treatment they Needed?
It marks a tragic end for someone with such promising beginnings. McCready moved to Nashville at just 18 years old and topped the charts with her debut album, Ten Thousand Angels. Her second album, If I Don't Stay The Night, produced singles like "You'll Never Know" and "What If I Do."
But McCready's success was short-lived. Following her brief engagement with Dean Cain (the actor directed the singer in music videos for "You'll Never Know" and "The Other Side of This Kiss"), McCready released 1999's I'm Not So Tough, which failed to live up to her previous albums. Her next album, Mindy McCready, proved to be the nail in her musical coffin, and she was dropped by Capitol Records following the release's poor sales figures. 
Turns out the name of her 1999 album was fitting. McCready proved she wasn't tough enough to handle her musical struggles with a series of personal setbacks. McCready was taken into custody after attempting to purchase OxyContin by using a fake prescription in 2004. The next year, the singer attempted suicide after her boyfried, Billy McKnight, was arrested for abusing McCready. McCready attempted suicide once again later that year while pregnant with McKnight's son, Zander.
RELATED: Mindy McCready's Musical Legacy — VIDEOS
McCready would try once again to commit suicide in 2008 — the same year she was sentenced to 60 days in jail for violating her probation — and became the center of a public scandal after her alleged decade-long affair with baseball player Roger Clemens was revealed by the New York Daily News. (According to the publication, the couple began their tryst when McCready was just 15 years old.) 
Her personal struggles led McCready to check into televised rehab on Season 3 of Celebrity Rehab with Dr. Drew. Unfortunately, the series — and a brief comeback with her final album, I'm Still Here — failed to rehabilitate McCready, who was hospitalized in 2010 following a supposed overdose. 
McCready is the latest Celebrity Rehab alum to pass following their stint on the show. Previous Celebrity Rehab cast members Jeff Conaway, Rodney King, Mike Starr, and Joey Kovar all have died since 2011.
[Image Credit: Mark Humphrey/AP Images]