Mindy McCready: A Once-Promising Country Career, Told In Song — VIDEOS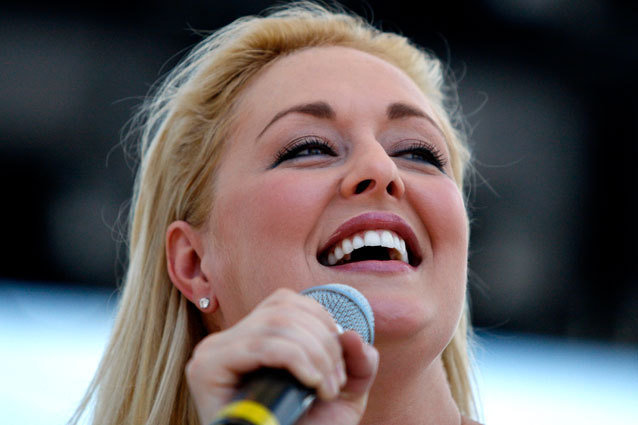 Before Mindy McCready was tabloid fodder and a cast member on VH1's Celebrity Rehab with Dr. Drew, she showed great promise as a country singer. Throughout her career, McCready released five studio albums, garnering five top 20 hits, including her No. 1 single, "Guys Do It All The Time," as well as her top 10-charting hits "Ten Thousand Angels" and "A Girl's Gotta Do (What a Girl's Gotta Do)." 
While her personal life was at times outrageous and ultimately tragic, her vocal prowess was undeniable. Read on below for more of McCready's music career, as told through the videos she made.
RELATED: Mindy McCready Dies at 37 — Report
Ten Thousand Angels
McCready's first single came off the album of the same name in 1996, when the singer was only 21 years old. The song reached No. 6 on the Billboard Country charts.
Guys Do It All The Time
Her follow-up single to "Ten Thousand Angels" is what really made McCready a country crooner to take note of: It reached No. 1 on both American and Canadian country charts. No small feat when you look at the competition out at that time: Tim McGraw, George Strait, Faith Hill, Shania Twain, and Garth Brooks — just to name a few. The song lamented the hypocrisy of her man's feelings after McCready and her gals had a late night.
Maybe He'll Notice Her Now
A duet with Lonestar's Richie McDonald, McCready's next single was a melancholic tune. The subject matter reflects a relationship where a woman leaves because her man doesn't pay her much mind. Turns out leaving was the best thing she could've done, as he calls her back up and realizes he's been a fool. 
You'll Never Know
The video, one of two directed by McCready's then-boyfriend, actor Dean Cain (some of you may know him as Superman), "You'll Never Know" continues with the singer's trend of inner sadness.
The Other Side of This Kiss
The second Cain-directed clip features McCready dancily skipping about New Orleans, Louisiana without a care in the world, and a yearning for a deeper connection with the man she's seeing.
All I Want Is Everything
McCready's next single seems to continue the female-empowered idea from "Guys Do It All The Time." While the tune starts out as a seemingly materialistic ode, it ends with her admission that the biggest want of all is, well, love.
Scream
McCready's first single of the aughts, "Scream" speaks very closely to the inner turmoil McCready faced. With lyrics like "Anger so buried deep / Eats you up inside / Spreads like a parasite / There's no where to hide / I want to let it go / Before it smothers my soul / Uncover my heart again / Fillin' the hole," it seems that McCready's troubles were always deep-seeded.
Maybe, Maybe Not
McCready's last music video was 2001's "Maybe, Maybe Not," and featured McCready playing in soap bubbles while admitting that perhaps her last relationship's demise was partially her fault while also sheding uncertainty on that very hypothetical.
[Photo Credit: Bill Waugh/AP Images]
Follow Alicia on Twitter @alicialutes.
---
From Our Partners:

Bradley Cooper Dancing Is Surprisingly Awkward, Sweaty (Vh1) 

Kate Upton Bares All in Nothing But Body Paint: Video (Celebuzz)