Minka Kelly Rumored To Be Dating Wilmer Valderrama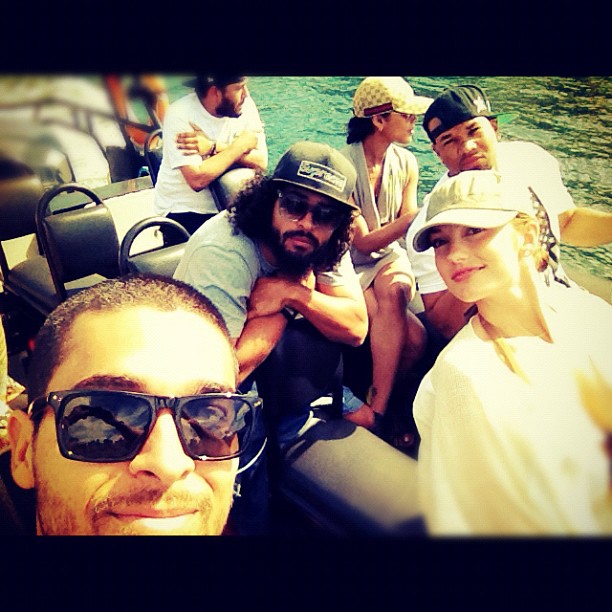 Wilmer Valderrama's acting career hasn't exactly been in the spotlight since his days as Fez in That '70s Show, but his personal life is a whole different matter. Throughout the years he's managed to nab some of Hollywood's hottest stars, which has earned him a steady amount of press. In fact, he's the talk of the town this week thanks to rumors that he's dating Derek Jeter's ex-girlfriend Minka Kelly. (Apparently they were spotted getting cozy at the nightclub Marquee The Star in Sydney, Australia and were even pictured together in Valderrama's recent Twitter post).
Indeed, for only 32 years old, this guy has certainly made the celebrity rounds, but are all these women better for having dated him? Let's have history speak for itself — what is the Wilmer Valderrama Effect?
The Career Pitfall
Back when Valderrama was just starting out on That '70s Show, he developed a relationship with actress Jennifer Love Hewitt. At this point, she was at the tail end of her Party of Five stint and had starred in hit films such as I Know What You Did Last Summer and Can't Hardly Wait. But after their fling finally fizzled, Hewitt's popularity began to dwindle and she started starring in dismal box office flops like Heartbreakers. Eventually she picked up a five-year stint playing Melina Gordon on The Ghost Whisperer, but that's still nowhere near the caliber of projects she was once a part of. Not to say she won't reclaim her high celebrity status: She's now looking to push up her career in The Client List.
The Career Transition
Mandy Moore began dating Valderrama (her first boyfriend ever, by the way) on and off from 2001 to 2002. It was around this same time that Moore experienced a career transition from music to acting. Singing became less of a main focus to her, though she managed to incorporate musical performances into a few of her films. But for the most part, she traded in her microphone for a script and happily rode the waves of cinematic success by starring in the likes of A Walk To Remember, Saved, and License To Wed. Sure, she's not really known for really stretching out her acting chops too much (there are only so many chick flicks one person should be allowed to be in), but the industry crossover proved to be quite rewarding for a while. Thank you Valderrama?
The Career Self-Destruction
If you couldn't already tell in the headline, I'm referring to the one and only Lindsay Lohan. A 17-year-old Lilo fell hard for Mr. Valderrama in 2004 — the same year the actress achieved the highest point of her acting career: Mean Girls. After a few less than impressive films (Herbie Fully Loaded anyone?), Lohan threw herself into relentless partying, which resulted in a DUI in 2007 and countless visits to a courtroom/rehab. Forget dark days, this girl's been through some dark years. That Valderrama hangover really kicked into full gear on this one.
The Career Delay
Rumors abounded in 1999 that Valderrama was dating his That '70s Show co-star Mila Kunis. And while neither star ever confessed to the courtship, it's not uncommon for romantic relationships to bloom while on set. (Please see: all of Hollywood.) Like Valderrama, Kunis' career became almost non-existent after That '70s Show wrapped, and it looked like the stunning actress had fallen off the public's radar for good. But then in 2010, Kunis starred alongside A-lister Denzel Washington in The Book of Eli, which quickly launched her back into the entertainment spotlight. Since then she's become one of the hottest stars in the business, earning roles in huge box hits such as Black Swan and Friends With Benefits. She's even got marines launching adorable YouTube videos all in an attempt to ask her out. If we were Valderrama, we'd wish we could too.
More:
Take Me Home Tonight's Effect On That 70's Show's Cast
ABC Axes Charlie's Angels Reboot