Miss Alabama Katherine Webb Ogled on ESPN: Does She Deserve an Apology?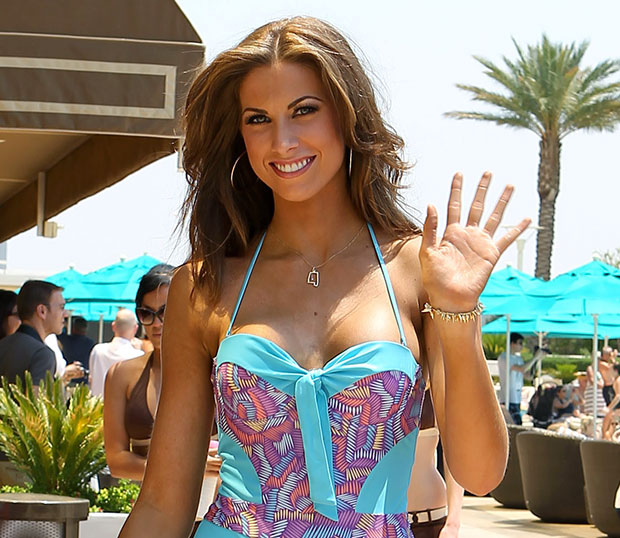 As a beauty queen, reigning Miss Alabama Katherine Webb is used to being judged by her looks — and, of course, by her grace, poise, and bikini bust balance. She's not, however, used to taking the spotlight away from her boyfriend AJ McCarron, University of Alabama quarterback, on game day. But when ESPN announcer Brent Musburger ogled her on live television during Monday's BCS National Championship game, that's just what happened.
As cameras panned to Webb in the stands, Musburger first referred to Webb as a "lovely lady" and then went on to say, "You quarterbacks, you get all the good looking women. What a beautiful woman." He ended his commentary with a word of advice, "If you're a youngster in Alabama, start getting the football out and throw it around the backyard with pop," Musburger said.
After Musburger's remarks, Twitter exploded with equal parts, "Ohmigod she's so hot!" and "Ew, Musburger is such a dirty old uncle!" And Webb's Twitter followers grew from just 2,300 to over 200,000 in less than 24 hours. At one point, Webb was gaining 1,000 new followers per minute.
But when Webb spoke with Matt Lauer on the Today show this morning, it was clear she didn't let the sudden fame go to her head. A beauty queen through and through, she took it in stride, and even defended Musburger. "I think the media has been really unfair to him. I think if he had said something along the lines of that we were 'hot' or 'sexy' or made any derogatory statements like that, I think that would have been a little bit different. But the fact that he said we were beautiful and gorgeous, I don't see why any woman wouldn't be flattered by that?" She added, "I don't think I needed an apology."
Visit NBCNews.com for breaking news, world news, and news about the economy
Despite Webb's protestations, ESPN issued an apology on behalf of Musburger. ESPN spokesman Mike Soltys issued a statement that reads, Have been asked on focus on @_KatherineWebb in BCS: We always try to capture interesting storylines and the relationship between an Auburn grad who is Miss Alabama and the current Alabama quarterback certainly met that test. However, we apologize that the commentary in this instance went too far and Brent understands that.Leave it to a beauty queen to take it all in stride. 
Follow Abbey Stone on Twitter @abbeystone
[Photo Credit: Wenn]
More:
Sad Taylor Swift On A Boat Gets Some Company Post-Harry Styles Split — PHOTO
Emma Watson Mistaken For 'Unaccompanied Minor' In Airport, Wishes She Could Apparate
M.I.A.'s Album Delayed for Being 'Too Positive': Do We Want a Sunny M.I.A.?

Guess the Celebrity Bikini Body! (Celebuzz)

30 Hottest Lingerie Scenes from the Past 30 Years (Celebuzz)