Molly Ringwald Covers 'Don't You (Forget About Me)': Is She the Best Brat Pack Crooner?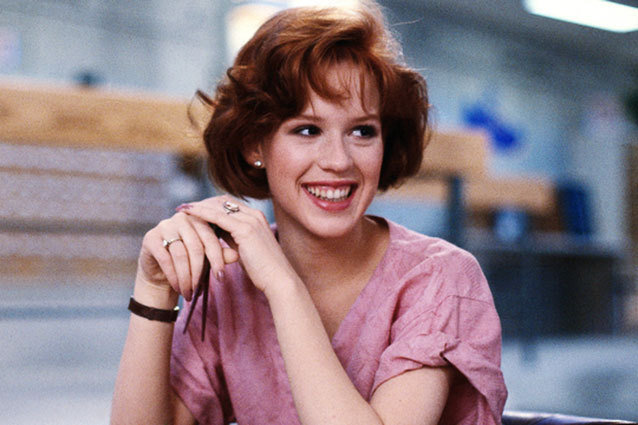 Simple Minds' "Don't You (Forget About Me)" is the song synonymous with The Breakfast Club, the movie that's synonymous with great '80s high school movies, and it just got a jazzy makeover. (Hey, sort of like Allison at the end of said movie!) 
Molly Ringwald, who played Claire "the princess" in the John Hughes classic, grew up to be an actress/jazz singer (who knew?) and released an album called Except Sometimes which features a cover of that very same Breakfast Club theme song. While the song sounds noticeably different when performed by Ringwald (not worse, not better, per se… just different) and it probably won't make you dance around the library during detention, it's still pretty impressive — almost as impressive as being able to put on lipstick with your bra. 
You can listen to a snippet of Ringwald's cover of the Simple Minds tune here: 
Ringwald's album doesn't come out until April 13, but it seems as though she has the chops to round up the rest of her Brat Pack cohorts to create a singing Rat Pack of their own. Her Breakfast Club co-star Anthony Michael Hall formed his own band in the late '90s called Hall of Mirrors who released a song called… "Hall of Mirrors." If nothing else, you've gotta give him credit for staying in character. There may be nothing nerdier than calling your band Hall of Mirrors when your last name is Hall. Listen here: 

Demi Moore apparently had some unreleased pop songs in the '80s but she's also been heard on soundtracks before, including this lounge rendition of "Louie Louie" from Bobby. It sounds pretty great actually, but would have totally rocked if there had been some sweet St. Elmo's Fire sax blaring in the background. 
Then, of course, there was Rob Lowe's short-lived venture into music with his disastrous Oscars duet with Snow White. Watch and listen again, if you dare.
Yep, it's official, Molly Ringwald is the best singer of the Brat Pack. (Note: Patrick Swayze wasn't technically one of the main Brat Packers, more of an off-shoot, or else this would have been his for the taking). Even her Pretty In Pink co-star Andrew McCarthy would have to agree, telling fans on Twitter, "First heard @MollyRingwald sing at the Pretty in Pink wrap party. I'll be buying her CD." Aw, you're not so bad after all, Blane. 
More: 
Molly Ringwald Outed One of Her '80s Co-stars 
Chevy Chase and Beverly D'Angelo to Return For 'Vacation' Reboot 
Is Ed Helms the Next Chevy Chase? 
---
From Our Partners:


Eva Longoria Bikinis on Spring Break (Celebuzz)


33 Child Stars: Where Are They Now? (Celebuzz)