Monopoly to Replace One Token: Save the Thimble!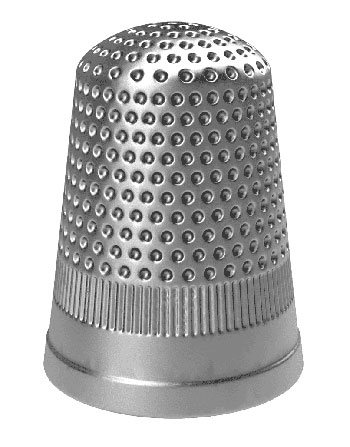 One beloved Monopoly token will not pass "Go." Eighty years after consumers were introduced to Monopoly — and, thus, the car, thimble, boot, Scottie, boat, top hat, iron, and wheelbarrow — Hasbro has announced that the board game will remove one token from its line-up, and replace it with a more 21st century-friendly token.
Hasbro, in its attempt to modernize the board game experience, is allowing Monopoly fans who log onto Facebook and Twitter (with the hashtag #tokenvote) to vote on which new token will be introduced to consumers, and which will become as irrelevant as Atlantic City itself.
But before we get to the ridiculousness of Monopoly's new choices (unless you're Bon Jovi or Springsteen, a guitar gets you nowhere on the boardwalk), we must come together in an effort to save Monopoly's underdog token. And I'm not talking about the dog, which is raking up the most votes on Facebook. I'm talking, of course, about Monopoly's thimble.
As the youngest in the family and the most unpopular amongst friends, the thimble always became my token of choice. Mostly because — unlike the coveted dog and car — no one else wanted it. But I came to love the thimble. Like my Monopoly strategy, the token was full of holes and kind of stupid. But it was also unassuming, a quietly strong presence that can fend off even the sharpest of real estate rivals.
And now — when the thimble needs us — there's a distressing lack of love for the token across social media. The thimble only leads the boot (come on, Monopoly — give the boot the boot to make the headlines easy for us!), and the majority of tweeters are opting to save the Scottie dog, which is essentially like voting for Carrie Underwood in Season 4 of American Idol. Wasted vote! So, please, let me take this off my (community) chest: Take a chance (heh) and vote for our dear ol' thimble.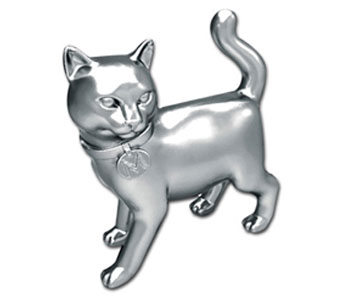 Or else we face a thimble-less future complete with one of the following new tokens: A guitar, helicopter, diamond ring, cat (see right), and robot with a mustache. Though neither option quite modernizes the game like Hasbro is hoping to (where's the iPhone or Honey Boo Boo token?), the Internet cloud where millions of felines live will most likely lead to future Scottie v. cat battle. Because what LOLcat lover can resist a kitten in jail?
<a href="http://polldaddy.com/poll/6819502/">Which Monopoly token should Hasbro save?</a>
<a href="http://polldaddy.com/poll/6819506/">Which new token should join Monopoly?</a>
[Image Credit: Pogo]
More:
Writers Hired for Ridley Scott's 'Monopoly'
'Battleship' the Movie: Which Films and Shows Deserve the Board Game Treatment?
Miley Cyrus' Twitter Wisdom Inspired These Cat Posters

Guess the Celebrity Bikini Body! (Celebuzz)

30 Hottest Lingerie Scenes from the Past 30 Years (Celebuzz)