Heaven Knows I'm Miserable Now: Morrissey's Most Shocking Whinges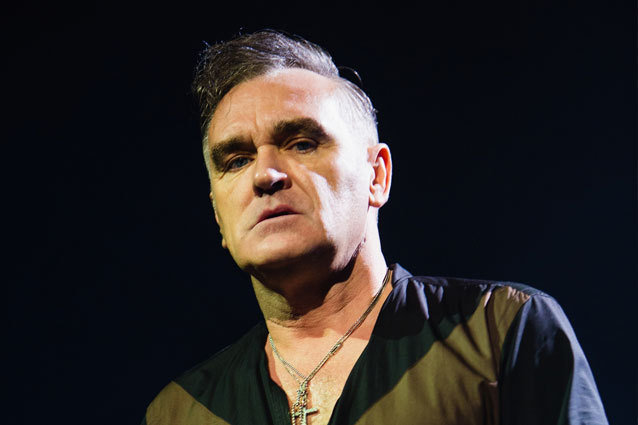 FilmMagic
Originally scheduled to hit the shelves last week, Morrissey's autobiography was pulled at the last minute following a content disagreement between the former The Smiths frontman and Penguin Books. Considering the vitriol that has spewed from the gladioli-swinger's mouth since he arrived on the mid-80s indie-rock scene, it's little surprise that the publishers may have got cold feet over the offence such a memoir would undoubtedly have caused. While we wait for both parties to clear up their differences, here's a look at some of Mozza's previous most shocking statements.
"The sorrow of the IRA Brighton bombing is that Thatcher escaped unscathed."
Morrissey didn't take long to establish himself as rock's biggest troll. Just nine months after The Smiths released their self-titled debut, he made his feelings towards The Iron Lady very clear following her near-death experience in 1984.
"Bob Geldof is a nauseating character. Band Aid was the most self-righteous platform ever in the history of popular music."
Despite raising $14 million for famine relief in Africa, Morrissey still didn't think much of the Boomtown Rat's efforts to bring the cream of the 1984 pop scene together for number one single, "Do They Know It's Christmas?"
"I wish that Prince Charles had been shot. I think it would have made the world a more interesting place."
After having murderous thoughts about the Prime Minister, Morrissey then switched his attention to the future King after a student fired two blank shots at Prince Charles in a protest over Australia's treatment of Cambodian boat people in 1994.
"The smell of burning animals is making me sick. I can smell burning flesh . . . and I hope to God it's human."
A militant vegetarian, Morrissey also became slightly cannibalistic when he briefly walked off stage during his set at Coachella in 2009.
"You can't help but feel that the Chinese people are a subspecies."
Morrissey was understandably accused of 'crude racism' after attacking China's animal welfare record in a typically politically incorrect manner in 2010.
"That is nothing compared to what happens in McDonalds and Kentucky Fried s**t every day."
Morrissey took his lack of sympathy to new levels in 2011 after claiming the Norwegian massacre which left 77 people dead paled in comparison to the production methods of various fast food chains.
"The spirit of 1939 Germany now pervades throughout media-brand Britain."
Spectacularly misjudging the triumphant mood of the nation, Morrissey compared the buzz surrounding the London Olympics to that of Hitler's regime.
"There's no blame placed at Kate Middleton, who was in the hospital for, as far as I can see, absolutely no reason . . . She feels no shame about the death of this woman. The arrogance of the British royals is staggering, absolutely staggering."
After getting his backing band to wear 'We Hate William and Kate' t-shirts on stage, Morrissey continued on his anti-monarchist march in 2012 after implying that the Duchess of Cambridge should take some of the responsibility for the tragic suicide of the phone hoax nurse who worked at the hospital she was receiving treatment at.
Follow @Hollywood_com


More:
Hip-Hop Needs Azealia Banks To Drop That Album
Supergroups That Lived Up To The Hype
Jessie J Is Killing Music
---
From Our Partners:


40 Most Revealing See-Through Red Carpet Looks (Vh1)


15 Stars Share Secrets of their Sex Lives (Celebuzz)