'Most Beautiful Woman in the World' Bullied Over 'Double Chin'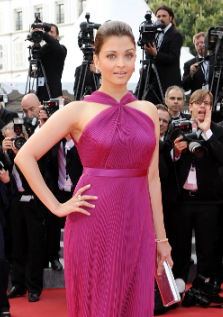 Jessica Simpson isn't the only star catching the wrath of the pregnancy police.
One of Bollywood's hottest stars, actress 
Aishwarya Rai
, is being slammed in India for not losing the baby weight quickly enough.
Rai, 38, who gave birth to daughter Aaradhya in November has been put through the ringer by fans and journalists. And it's turning into some real schoolyard ugliness.
The worst example? One web site posted a video showing photos of her body with elephant sound effects streaming in the background. (An incredible 500,000 meanies have watched it so far.)
Now, the criticism has opened up a fierce debate in India, with some fans suggesting that she should've lost the weight as quickly as fellow mom 
Victoria Beckham
. Still, others are rushing to her defense. 
For her part, the former Miss World and L'Oreal spokesperson, who was named The Most Beautiful Woman in the World, says she's trying not to stress out and just wants to "enjoy motherhood." 
What do you think? Hasn't this whole baby weight pressure gotten out of control? Should Rai's critics be forced to eat Ring Dings and watch Knocked Up?